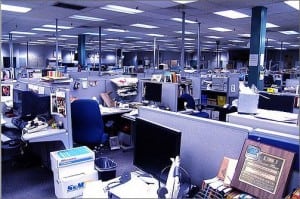 I read the news today, oh boy.
Nearly a third of consumers said they have abandoned a news outlet because it no longer provides the news and information they had grown accustomed to, according to a new report by the Pew Research Center's Project for Excellence in Journalism.
Among the people who left a news outlet, 61% of the respondents said that the stories were less complete than they had been, the survey added.
Pew's annual "State of the News Media" report shows that newsroom employment is down 30% since 2000 and has dropped below 40,000 people for the first time since 1978.
And fewer reporters and editors means fewer people engaged with the news. The survey, which took the pulse of 2,000 consumers, found that 28% of adults under age 30 counted themselves as regular local news viewers, down from 42% in 2006.
Call it blowback from years of severe newsroom cuts that have left many newspapers throughout the country decimated and cable news outlets resembling an over-caffeinated version of talk radio. (The Chicago Sun-Times late last week reportedly laid off several longtime suburban editors and other staffers as parent company Sun-Times Media begins to consolidate operations in its Chicago offices.)
For PR folks, the shrinking of traditional newsrooms continues to turn media relations on its head.
With the proverbial tumbleweeds rolling through more and more traditional newsrooms communicators have to step up their efforts to cultivate relationships with social media specialists, bloggers, videographers and other denizens of the digital age.
The proliferation of social platforms makes it more problematic for communicators to control their messages, of course.
But the trend also provides PR departments with an opportunity to sharpen their pitch and make sure that the website/blogger/social news outlet, is an appropriate media vehicle tfor their messages.