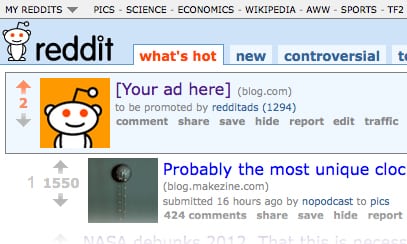 In a move that reflects its characteristically democratic and humanitarian personality, reddit announced on Friday that it will donate 10% of its 2014 ad revenue to charity. At the end of the fiscal year, the popular social media network will allow users to decide where the money goes, donating the chunk of revenue to the top 10 registered 501(c)(3) organizations as decided by users.
Reddit CEO Yishan Wong explained in a blog post that the donation is intended to convey the message that advertising "doesn't just support the reddit platform, it also directly supports the causes and goals of reddit as a whole."
That take on advertising is an interesting one for reddit, which has treaded carefully when it comes to having advertising on its site. Reddit has never inundated users with advertisements the way networks like Facebook and Twitter have. And one of the main selling points for the platform's paid "Gold" membership plan is that it allows users to disable ads.
"We hate annoying and disruptive ads as much as everyone else, and we've always had limits on the type of ads we accept at reddit," Erik Martin, general manager of reddit told The Next Web in February. "We respect our community and we're serious about not displaying obnoxious ads."
Still, as reddit has expanded, it has needed to increase its advertising efforts in order to keep its servers running and its (albeit small) staff paid. Wong has written that advertising will always be a part of the structure of reddit. In fact, quality branded content is welcome on the site, provided it adds to the conversation. With the new philanthropic effort, being known as a reddit-friendly brand could help boost your CSR cred as well.
Victoria Taylor, director of communications for reddit, shared a few tips with us on how PR pros can best participate on reddit:
Listen and read. Feel free to search on reddit for key terms related to your clients, then read through what people are saying to get an idea of the sentiment around them. Through this, you can see what people love and what they don't love in an anonymous, honest environment. "Redditors" expect transparency and accountability.
Ask questions. We're here to help, and want to make sure that you're reaching out to the appropriate people on the site in the best possible way. In the end, nobody wins if communications go sour, the community is offended, and your client walks away with a bad experience. Let us make your lives easier by making it a conversation and not a shot in the dark.
Enjoy the ride. As you engage on reddit, you are going to find that despite (or perhaps because of) its unpredictability—whether it's setting up an AMA with talent associated with your client, or taking questions on an AskReddit thread about a field you're familiar with—you and your clients will find it enjoyable, entertaining and ultimately rewarding.
Follow Brian Greene: @bwilliamgreene