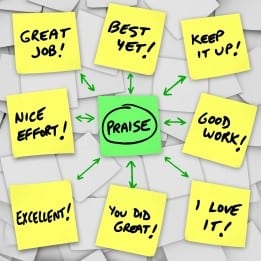 In the PR field, an effective employee knows how to pitch a story, cultivate relationships with the media and knock out a press release that stakeholders are going to want to read. But there are other facets that make a great employee, and transcend the day-to-day operation, as indicated by an informal inquiry of PR News' audience.
The query, which we posted on our Facebook and Twitter accounts, generated responses that go beyond PR strategies and tactics and get to the heart of what makes an effective workplace.
For example, @ElleWood13 said that a great employee "always takes initiative and is ready to work toward the best, correct end result" while @ChelseyNagy said, quite succinctly we might add, that a great employee is "always observant."
Here's the rest of the Twitter responses; A great employee:
> Always shows passion.
> Is an opportunist, and goes above and beyond expectations.
> Is calm, cool, and collected.
> Understands their role in the success of their employer
> Is open to criticism.
> Is willing to see an issue from other viewpoints.
> Is always proactive, consider his customer's problem as his own problem, always react before the crisis shows up
> Always puts the needs of their clients above their own.
> Always provide best, honest advice to clients.
> Goes for it & sticks with it and challenges the conventional.
The responses on our Facebook page were a bit more whimsical than those on our Twitter page.
Nevertheless, there were a few pearls of wisdom to consider, such as Tefo K. Linchwe, who said that great employees "have initiative in line with the company's vision," and Jennifer Holland Gilmore, who added that a great employee "anticipates needs and is ready with a solution."
What do you think about the comments? How would you add to them?
Follow Matthew Schwartz on Twitter: @mpsjourno1