There is a lot of buzz these days about measuring influence and discovering influencers for your marketplace. Some vendors lead you to believe that influencer identification and measurement is something brand new that has never been done before. Others have reduced the topic of influence and influencer discovery into an "Egosystem," where everyone is far more interested in measuring their own popularity rather than worrying about who's actually impacting the market for their clients.
To address these issues, let's look at why influence matters in the world of PR, and what it all really means for the mass market of PR practitioners.
First, what do we mean by influence? Influencers inspire others to take desirable and measurable action and outcomes. Influencers are individuals who by their writings, speeches, videos or other means move your target market segment to do something—buy, vote, join a campaign, etc. Influencers are not just people who may do something in your market, they are people who are already actively engaged and are doing something via their actions.
Second, influencer identification and measurement is not something new for a PR professional. In fact, PR practitioners have been identifying key influencers forever—it's what we've previously called media, press and analyst relations. For decades, smart practitioners have identified the key members of the media most likely to help influence a market by repeating or positively editorializing the key messages the client would like to have repeated in the market.

Influence is not a brand-new, radical idea in the world of PR. It is, however, much harder to do these days.

Third, if this has always been important, and is still important today, what's the big deal? The graphic below demonstrates the problem. In the next 30 minutes, more conversations, postings and other voices will occur than you can possibly keep up with. PR has changed from a discipline where you only had to track a relatively small number of voices across a small number of media outlets publishing once daily/weekly/monthly, to one where voices are broadcast across a huge array of blogs, online publications and social networks 7x24x365. The result is a cacophony of noise and a PR industry drowning in the data of a million voices.
The result is one of the biggest challenges the PR and marketing industry has ever faced: How do you separate the voices that matter from the noise?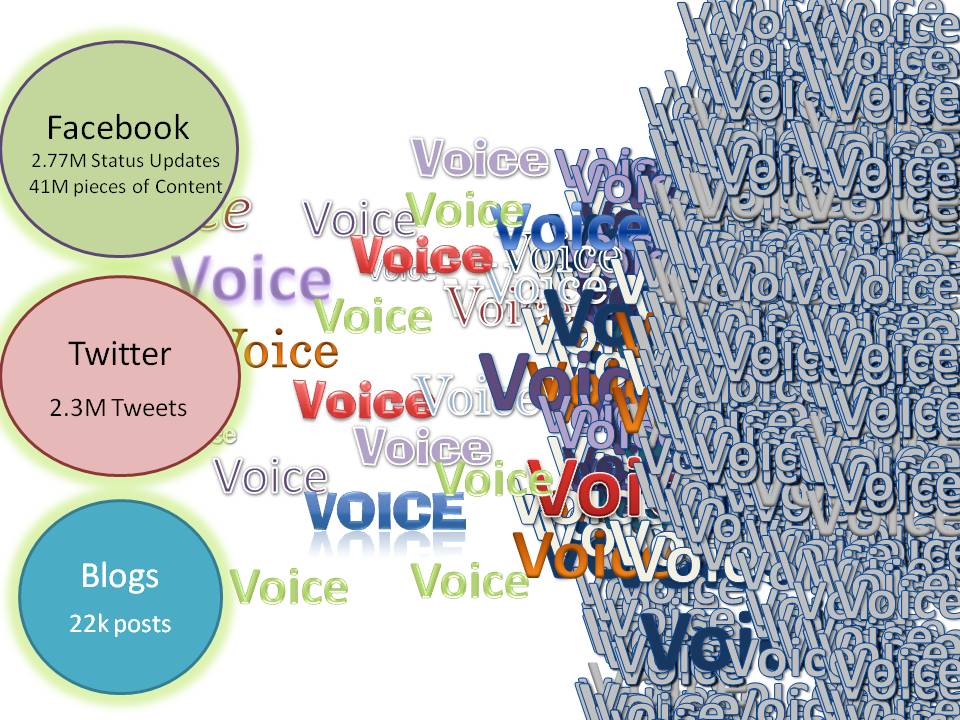 Luckily, there are well-defined methodologies a PR professional can follow:
Step 1: Identify the market you serve and what keywords and topics matter to you and your competitors.
Step 2: Listen to/monitor all conversations to pick up relevant voices that matter, by screening for the keywords and topics that matter. Listen for the passionately positive, and for those not so positive about the market, your client and competitors.
Step 3: Measure these topically relevant conversations to uncover who matters the most. This can be done using a set of rules-based measurements to look at:
Raw Influence = Social Graph = Potential Influence = Stored Energy. Who has a large audience and thus who is able to be influential?
Who is most relevant to the topics that drive the market? And who is moving others within the market when they talk about them? Who has authority? Who do people listen to?
Luckily, there are tools coming to market that automate much of this for the PR practitioner. These tools handle the monitoring of all voices across forms of media to find the voices who are topically relevant to your market, and then apply a set of intelligent calculations to the results to pinpoint which voices really matter.
Measuring influence is paramount for PR practitioners to follow but, as I said, it's not something new. It's something that has been done successfully forever by PR practitioners, and will continue to be done successfully by those who adopt new methods to track, measure and then engage with the influencers who can most move a market segment for their clients.
Gary Lee is CEO of mBLAST. Gary has over 25 years experience in high tech marketing, development and executive management. Prior to joining mBLAST, he was North American CEO of Mi liberty, a global PR & marketing services agency. Gary has also served as CEO of FlexLight Networks, president and COO of Home Wireless Networks and has held various roles at General Datacomm, Sprint and Nortel. Follow Gary on Twitter.