Within 48 hours of this column being written, AT&T announced that they would allow subsidized upgrades for iPhone customers who would have otherwise come due for an upgrade through September of this year. While this will not cover everyone who was a part of this protest, it probably peels off enough people that they've taken a critical mass of wind out of the protest's sails.
Last week, Apple announced a new iPhone model, the 3GS, along with a very unpopular pricing plan built around AT&T's standard two-year service agreement. Apple's desire to sell a new iPhone more often than once every two years created a lot of angry iPhone owners who just recently bought the 3G model last year and will have to pay as much as $600 to upgrade to the new model. A Twitter-based petition, numbering 12,000 signatories at last count, was driving attention to the issue.

This graph, culled from Radian6 data, represents online coversations about the topic: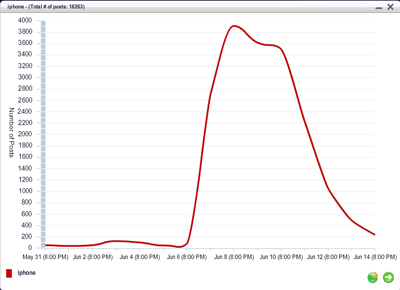 Indeed, 4,000 posts about this topic at its height is a lot. But what does this graph, and in particular the falling volume on the right, really mean?
1. There's a lot of angry iPhone customers, but they're over it.
2. There's a lot of angry iPhone customers, but they've forgiven you.
3. There's a lot of angry iPhone customers, and they're just catching their breath before yelling again.
Depending on the particular client situation, any of these could be true. It takes a savvy professional who understands a client's specific situation to discern what this data really means. In the end, Radian6 is simply a tool, albeit a powerful one, for those who understand the dynamics of communications.

In this case, with the new model going on sale Friday, June 18, and with very heavy competition for the iPhone coming from every carrier, it's entirely possible that there's a fourth option:
4. There are a lot of angry iPhone owners who have decided to sit out this upgrade cycle unless Apple finds some way to change the economics of this upgrade.
This data point would never show up on a graph, because it's an offline action. It's not measurable in Radian6, but it will most certainly be measurable in Apple's sales numbers on Saturday morning. Even if people threatened it online, that's still a poor approximation of actual behavior. One would hope that Apple's PR department isn't looking at this same graph and patting themselves on the back.
So what should Apple do now?
Apple has traditionally not responded to its critics with a change in pricing or policies. Even when Steve Jobs' health was an open secret pummeling Apple's stock price, the company's black hole of a PR department continued to tow the line that everything was fine, and that Jobs' health is a private matter (to the shareholders of Apple, it clearly was not).

There are two recent occasions in which this silence was broken:
1. When Apple needed to assuage early iPhone adopters about the fact that, months after they bought their phones, Apple dropped the price by $200.
2. In 2008, when Apple deeply screwed up the Mobile Me rollout so badly that it affected adoption rates.
I believe this shows that Apple doesn't bother to respond to criticism except when it appears to affect their product adoption cycle. In many ways, this is an excellent ego-less approach to communications for a consumer products company, because it puts the products front and center. For a company that makes products with such a strong brand halo, this strategy maximizes the product's market position.
However, Apple shouldn't ignore these topics entirely; the current protest on Twitter and the criticism in the press has the potential to really damage Apple's product launch when the 3GS goes on sale. If existing iPhone users decide to skip upgrading to the iPhone 3GS this summer, there are a number of very bad outcomes, not to mention the significant loss of revenue to Apple. Worse yet, the protest creates a window for competition: You can already see every tech reporter writing the story headline, "Don't want to pay a $200 premium to AT&T for a new iPhone? Here are 5 phones on other carriers that will give you almost the same features when you switch."

Apple will never forget the lessons of the PC wars: Having the best product doesn't guarantee success against a motivated, opportunistic opponent who see non-textbook market opportunities you miss. The problem lies not in recognizing the issue at hand, but in solving it. AT&T's exclusive contract with Apple for the iPhone is up next year, and the company is eager to lock in these customers. AT&T doesn't want to pay the cost of reducing the upgrade premium, and frankly, neither does Apple. Both companies are probably having a very tense discussion right now about whose hide this is going to come out of, since letting the customer base foment protest means that many will simply stick with the phone they have.

What's really unique about this protest is that it's purely Twitter and media-based, with no Facebook groups or protest Web sites (to date). In this case, measurement tools might suggest that there are 12,000 users who have gotten an inordinate amount of ink for their issue, but I would disagree. There's a reason that communications is not a discipline that can be driven entirely by algorithms. That difference in scale between coverage and names on a petition suggests there is a larger amount of discontent at work. And the nuanced position that Apple is in with their new product launching in a few days is something that not even the best algorithms could detect.

As these conversational monitoring tools become more and more prevalent, the tendency to equate subsiding conversations with "all's well" becomes more and more tempting. Don't give in to it.
Shabbir Imber Safdar is the Founder and Numerati-In-Residence at Virilion, Inc., one of the nation's oldest digital communications firms. He blogs about digital PR, measurement, and organizational goal-setting at www.truthypr.com.