Sure, Anthony Weiner was toast electorally weeks ago. And now that's he's officially been bounced from the Democratic primary, it's likely we've seen the last of Weiner, at least politically.
But this guy is just the gift that keeps giving regarding how not to behave if you're a public figure (or a business executive trying to appeal to his or her constituents).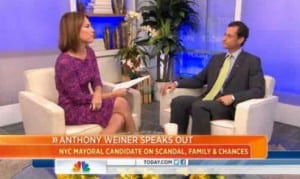 Weiner's appearance on the "Today" show on Monday is another classic example. He comes off as peevish, childish and, with apologies to the obvious, narcissistic. See the full video here.
His (dire) chances of winning the New York mayoralty aside, Weiner also provided people watching with even more fodder for thinking his marriage is some sort of fiction. Asked if had any regrets about including his wife, Huma Abedin, in the mayoral campaign, Weiner confessed his love for Huma but then insisted that he is the candidate.
He then added, somewhat weirdly, "I know there might be somewhere out there in Davenport, Iowa, someone who cares about my wife, but citizens of New York want to talk about their future and so do I." Keep it classy, Anthony.
Follow Mathew Schwartz: @mpsjourno1