How to Write Effective Press Releases That
Serve Your Brand & the Media
Friday, August 15, 2014, 1:30-3 p.m. ET
($379 per site - CDs available for purchase)

Most professional communicators concur that press releases have been reborn in this era in which newsrooms have been decimated and brands have been transforming themselves into content producers. At PR News' Aug. 15 press release webinar, you'll learn how to craft the press releases that are most likely to be shared by your target audience and used by the journalists who matter most in your market.
Potent, well-written, useful press releases continue to be an essential PR tactic to deliver news to journalists, bloggers and other media outlets. They also provide shareable, informative content that spreads your brand message online to anyone who might be interested in your company or industry. As reporters and editors find themselves increasingly forced to do more with less, your well-crafted press releases can make their lives easier—and advance your company's communications strategy.
At this Webinar, you'll learn how to:
Write killer, search-optimized press release headlines and leads that grab readers' attention
Manage edits from clients and colleagues that compromise the quality and effectiveness of your PR writing
Simplify your language and avoid the use of complex or vague industry jargon
Turn the executive quote from a generic placeholder into a powerful brand messaging tool
Include key supporting material that does journalists' jobs for them
Research target keywords and implement them to gain better visibility and increase brand exposure on search engines
Develop successful distribution strategies
Create effective press releases in a highly regulated industry
Get coverage in the b2b media outlets that cover your industry
Webinar Speakers

Sharon S. Bournes
Global Director of Marketing Communications and Exhibits
BIOMET 3i
Taylor L. Cole, APR
Director of Public Relations and Social Media
Hotels.com
@TravelwithTLC
Kimberly A. Kasitz
Public Relations & Communications Manager
General Atomics Aeronautical Systems, Inc.
@SdPRproKK
Beth Monaghan
Principal and Co-Founder
InkHouse
@bamonaghan

Moderator:
Steve Goldstein
Editorial Director, Events
PR News
@SGoldsteinAI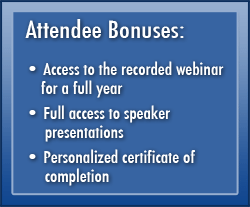 Our trainers, Taylor Cole of Hotels.com, Sharon Bournes of BIOMET 3i, Kimberly Kasitz of General Atomics Aeronautical Systems and Beth Monaghan of InkHouse, will show you how to craft search-optimized and shareable press releases for the age of downsized newsrooms and media-savvy consumers.

Questions and Fees?
For questions regarding this Webinar, contact Rachel Scharmann at rscharmann@accessintel.com; 301-354-1713.
If you are having any technical difficulties or need assistance meeting these requirements, please contact our Technical Support Center at 1-866-709-8255 or click here.
Registration Fee: $379 per site - CDs available for purchase
Each registration comes with access to the archived version of the program, the materials provided by the speakers and a personalized certificate of completion for attending the Webinar.
Certificate


Personalized Certificate for
All Attendees
How Does the Webinar Work?
The live audio is delivered to your location over the telephone or your computer speakers. This is like a talk-radio program with visuals on the Web. You and your team will be able to have a live Q&A with all the speakers.
You need Real Player 10, Adobe Flash Player 9 or Windows Media Player 9 installed on your computer. If you do not have either, please follow the instructions below to download and install them. Or if you prefer, a phone for the audio and an Internet connection to let you watch the slides and other information on the Web will suffice. No other downloads or special hardware - a dial-up connection will work fine.
One (1) set of materials (you may make copies for all of the persons you invited to listen to the program);
One (1) toll-free connection to the seminar (if you select the audio connection.), and
One (1) Internet connection to the seminar.
*You can now view this Webinar on your iPad, iPhone or Droid!
What Equipment Do I Need?
Operating system: Windows XP SP3 and above, Apple Mac OS X 10.7+ Lion, Apple iOS 5.1+, Android 4.3+,
Processor: 1GHz1=
Internet Browser: Internet Explorer 7.0+, Firefox 20+, Safari 5+ , Google Chrome 20+
Hardware: AUDIO: Sound Card with speakers. VIDEO: Screen with 1024x768+ resolution support.
Media Playback: Adobe Flash Player 10.3+ , Apple iOS and Android: http streaming enabled browser
Internet Connection: 700kbps+ connection
Ram: 1GB
PRSA Accreditation
PRSA APR Accreditation Maintenance Credits Approved: 1.0
Registrants that are Accredited by PRSA need to keep track of their points and submit their activities every three years. Please keep a copy of the event description with the date/time listed and submit when you are required to.

*PR News does not offer any refunds for webinars. All sales are final.