Not a college football fan? You may feel like you're in the minority this morning, as the news and social media has been flooded with stories and images from last night's National Championship game.
In a not-so-highly contested game at Arlington's AT&T Stadium Monday night, the Ohio State Buckeyes took it to the Oregon Ducks 42-20 to win the inaugural College Football Playoff National Championship. Later that night, Ohio State Buckeyes fans back home in Columbus took it to their campus, reportedly starting 89 fires and ripping down a goal post in their stadium before cops had to disperse them with tear gas and pepper spray.
Campus destruction aside, the National Championship game also set social media off, with hashtags #NationalChampions and #OREvsOSU dominating through the night and into this morning. Celebrities and athletes from all over used social media to express their support for their favorite team. Of course, brands got involved as well.
Here are some social media highlights from the game:
Nike: The athletic company tweeted out this photo of a coin flip along with a quintessentially Nike caption shortly before Monday night's kickoff. It quickly gained attention and retweets, as it appeared too perfect a shot to be real. SB Nation and Deadspin ruled that the photo was staged, but Nike still got all the attention.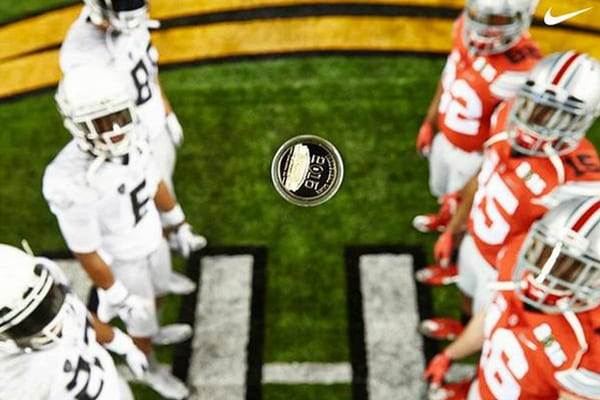 Dr. Pepper: The official sponsor of the new College Football Playoff National Championship trophy used Twitter to conduct a 24-hour tuition giveaway contest ahead of last night's game. Dr. Pepper encouraged fans to share their "One of a Kind Goal" for a chance to win $23,000 in tuition, and they also used Larry Culpepper, a fixture from their TV commercials, as a Twitter crossover to respond to fans in real-time throughout the game. Making Dr. Pepper Slurpees available in the press box probably didn't hurt their chances of positive coverage either.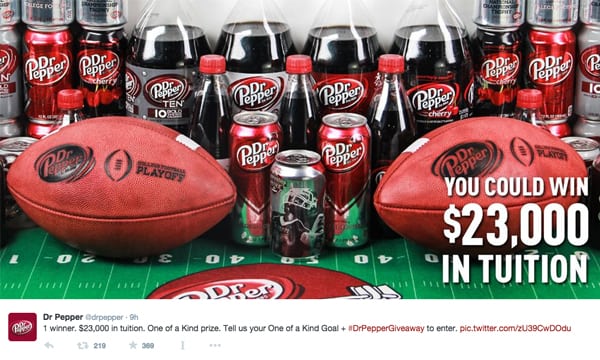 Puddles, the Oregon Duck mascot: A Vine of Oregon's mascot, Puddles, is currently being captioned and shared on Vine and Twitter. Puddles isn't a brand, but this Vine is a perfect, almost mesmerizing example of a creative and, in this case, crowd-sourced, use of a difficult medium that garnered exposure for Oregon.
When your momma surprises you and tells you she made your favorite food for dinner https://t.co/afCy7QWYSQ

— Jonathan Jones (@jjones9) January 13, 2015
Bob Newhart: During the game, the comedian and actor unexpectedly started trending on Twitter, as users posted side-by-side photos of Newhart and the game's head referee, Greg Burks, who display a stunning resemblance to each other. Newhart responded on Twitter during the game and racked up close to 15,000 retweets in the process, proving that it's worth it to pay attention (or pay someone to) to social media at all times. Social media spotlight is a terrible thing to waste.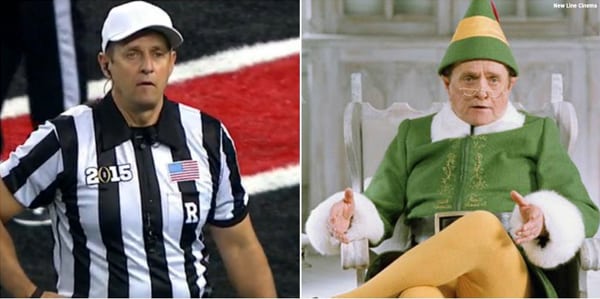 Follow Brian Greene on Twitter: @bw_greene