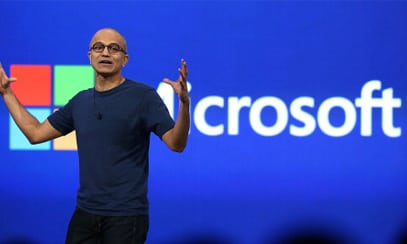 In a memo sent to employees on Thursday, Microsoft CEO Satya Nadella announced the company's largest ever personnel cuts, saying that the company will be shedding up to 18,000 employees over the next year. Most of the cuts will come from the Nokia division of the company, which was acquired by Microsoft a little under a year ago. In total, the layoffs could total over 14% of the company.
Nadella's note, titled "Starting to Evolve Our Organization and Culture," explains that the company is looking to rebuild and become more "agile." "It's important to note that while we are eliminating roles in some areas, we are adding roles in certain other strategic areas," Nadella carefully notes. His message is focused on the company's plans for moving forward, but it's also strategically sprinkled with information that those who fear for their jobs will want to know, such as a brief mention of severance pay.
Delivering bad news to your company—especially news this bad—is never easy. For a company like Microsoft, which is entering a transitionary period in an especially tough industry where companies that refuse to change are thanklessly left behind, steps like this are often necessary.
So how do you best communicate bad news to your company? Ken O'Quinn, corporate writing coach and founder of Writing with Clarity, has some tips for relaying information your employees may not want to hear:
Open with something positive or neutral. Start the message with a neutral statement, which means using factual information that the reader cannot argue with.
Bring in the bad news. Avoid alienating the reader in the opening paragraph, but get to the bad news quickly.
Give details explaining why. Explain yourself in objective terms.
Finish on a positive note. The more tactful you are, the more likely you are to get the results you want.
Provide helpful suggestions to remedy the situation. In Microsoft's case, Nadella closes his note with an invitation to a company Q&A regarding the impending layoffs.
Follow Ken O'Quinn: @KenOQuinn
Follow Brian Greene: @bwilliamgreene