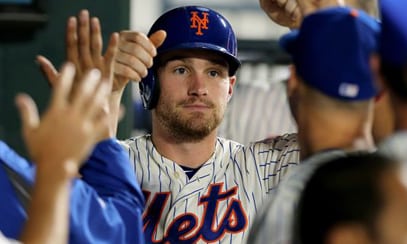 Putting an end to what one news outlet is calling "the dumbest sports controversy in recent memory," Mets second basemen Daniel Murphy chose not to fire back at criticism that he shouldn't have missed the team's first two games of the season to be with his wife after the birth of their first child.
"That's the choice that parents get to make. That's the greatness of it," Murphy said after returning to the team.
Murphy's wife gave birth on Monday, causing him to miss Monday's Opening Day and Wednesday night's game as well. On Wednesday, popular WFAN radio broadcasters Boomer Esiason and Mike Francesa criticized Murphy for staying with his wife while she recovered from labor.
Esiason argued on Wednesday that Murphy's wife should have told his wife to "have a C-section before the season starts. I need to be at Opening Day, I'm sorry," sparking outrage and eventually leading to an apology this morning.
Also on Wednesday, Esiason's WFAN colleague Mike Francesa explained his feelings that paternity leave is a "scam" saying, "One day I understand," Francesa said on his show, "And in the old days they didn't do that. But one day, go see the baby be born and come back. You're a Major League Baseball player. You can hire a nurse to take care of the baby if your wife needs help."
Instead of firing back at the two radio hosts upon his return to the team, Murphy responded to reporters' questions like a seasoned communications professional. "My wife and I discussed it," Murphy said, "And we felt the best thing for our family was for me to try to stay for an extra day, that being Wednesday, due to the fact that she can't travel for two weeks...having me there, I think, helped a lot, and vice versa."
Good advice for those, like Esiason and Francesa, who have a voice with any sort of reach: stay out of family matters and don't tell women what to do with their bodies.