Politics (and binder memes) aside, President Barack Obama and Republican candidate Mitt Romney provided tension, fireworks and points of differentiation in presentation and messaging during the Oct. 16 live town hall-style debate.
Communications coach Karen Friedman of Karen Friedman Enterprises says this was a far different Obama than we saw in the first debate. "He was energetic and loaded with facts and points that he used to continually attack and discredit Romney with the proper level of assertiveness, not aggressiveness," says Friedman.

Andy Gilman, CEO of CommCore Consulting, says it was clear that Romney was equally as prepared as round one, and Obama prepared himself much more for round two.
Gilman also points out that the optics of the different rooms made a difference. In round one the candidates were at lecterns, during the vice presidential debate Joe Biden and Paul Ryan sat at a table and here, Obama and Romney were at stools and were free to walk around, exposing their body language and providing less opportunities to write notes.

For Obama, a before and after comparison would show dramatically different body language between his two debates. "If you had the sound turned off, you would still say there was a night and day difference in the debates for him," says Gilman.

Friedman says at times Romney came off as a bit argumentative. "While he refuted the President, he appeared angry and defensive at times, pointing his finger and seeming to redden a bit as he tightened his facial muscles when trying unsuccessfully arguing with the moderator to allow him to keep talking," says Friedman.

Friedman feels Obama did a better job of connecting with his audience, talking right to them, citing examples they could relate to and bringing the conversation back to subjects they cared about, such as grants and scholarships. "He used his own story of being raised by a single mom to connect with women, families and the middle class," says Friedman.

Bridging, Fact-Checking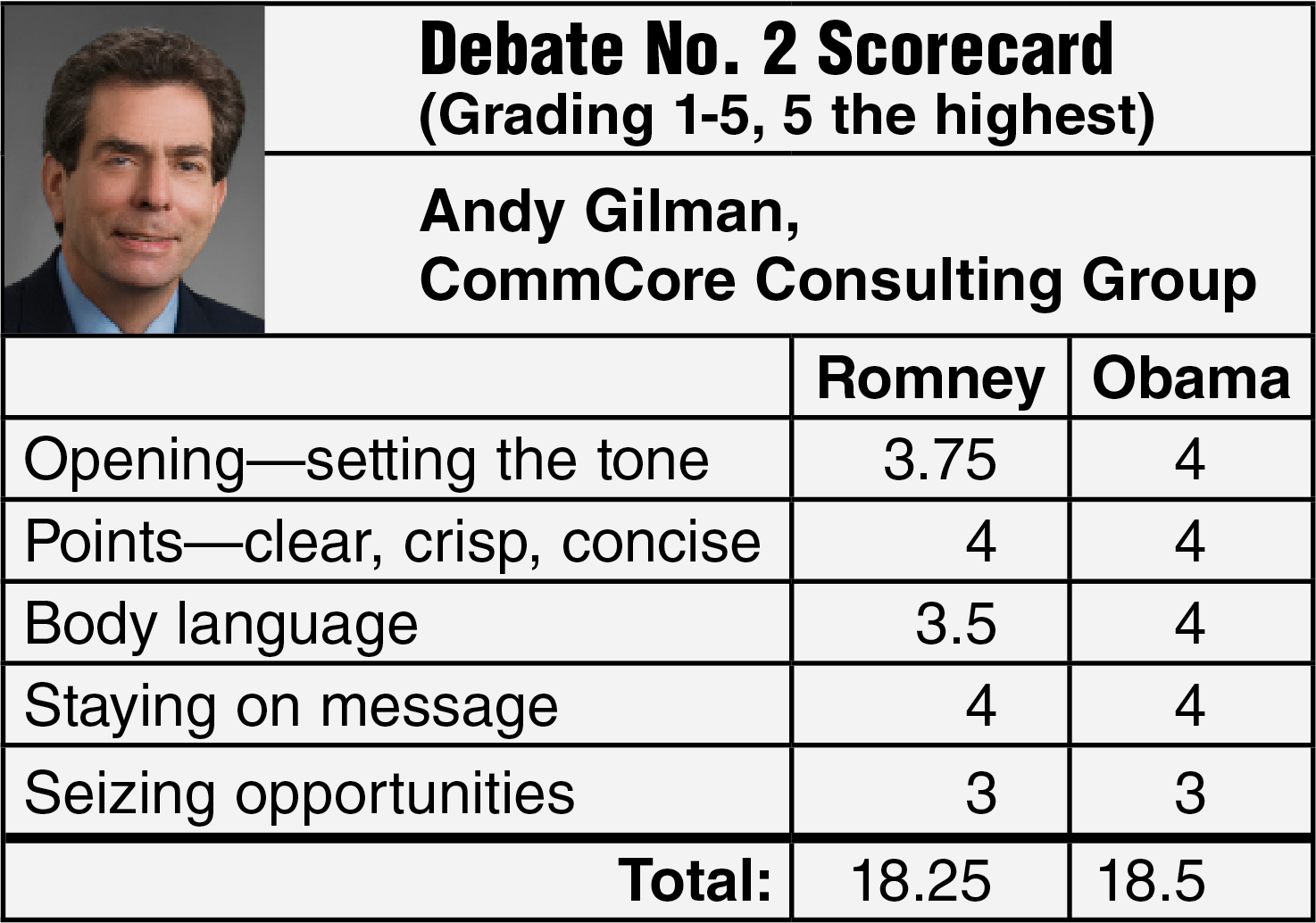 While Gilman says both candidates bridged fairly well (the worst bridging done by Romney: the gun-control question), neither did a textbook job : answer first, then bridge. "It's always best to actually answer the question, provide stats, then bridge to the broader parts," says Gilman. "Nassau County and Denver won't decide this election, so the candidates had to bridge to those states where the election will come down to."

Gilman says a large part of the debate came down to content. "Whether you like it or not, facts are stubborn things," says Gilman. "The fact-checking done during the debate by moderator Candy Crowley was a content point where Romney lost," he says.

Certainly, Obama was stronger and far more engaged this time around. But who "won" and who "lost"? Gilman says the real question is whether either of their style and substance points influenced the undecided voters.

Andy Gilman and Karen Friedman will share "Media Training Do's and Don'ts" at PR News' November 30Media Relations Conference in Washington, D.C.

Follow Bill Miltenberg: @bmiltenberg