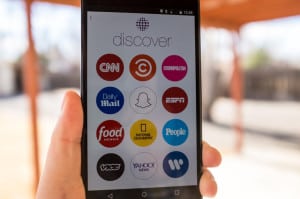 General news media site Vox is the latest brand to take to Snapchat's vaunted Discover panel, joining 16 other brands with their logos in brightly colored round buttons that entice the eyes of the platform's 200 million monthly users. Each of these slots is highly coveted; Snapchat is selective about who gets a channel and won't scruple to kick out big names, as it did with Yahoo and Warner Music Group earlier this year. This means that none of the players gets buried in a superfluity of choices, and with channels ranging from ESPN to Cosmopolitan and from National Geographic to Buzzfeed, Discover seems to represent a carefully curated cross-section of the millennial mind.
Allison Rockey, Vox's engagement editor, said in a statement that what Discover means for brands is "storytelling that is optimized for the [smartphone]. It's vertical. It's visual. It's swipeable. It's very new."
She hits the nail on the head: The best content produced for Discover seems to toss overboard everything you knew about traditional media and connect viscerally to the consumer with a smartphone in hand, as if designed by a savant who had never read a newspaper or watched television but was then tasked with communicating to the public via magic, touch-sensitive rectangle. Every micron of available screen space is used, video clips are short enough to keep attention but automatically loop if more time is needed to absorb them, selected text is overlaid to hammer home important points, music and sound effects reinforce the intended mood. And should this feast of the senses get wearisome, many slides invite you to swipe up to read some good old-fashioned prose on the topic at hand.
Vox's specific plan of attack for the platform? Daily editions at 6 a.m., making full use of the multimedia experience and usually focused on a single theme. Its first edition: a snippet of a Kevin Spacey House of Cards monologue leading into an examination of "the power of money in American politics." Viewers are treated to animated charts highlighting the skyrocketing cost of elections and the disparity of political influence between the haves and have-nots (and the tendency of the former to donate Republican), all set to the tune of a sinister march.
There's no word yet on how many people or how much time Vox has devoted to this effort, but it has been reported that Mashable has eight to 10 people working on its channel, and it's known that the vetting process for a new channel can take months of submitting content. Just what kind of return brands are getting for their investment in Discover is also a bit up in the air, but the viewership numbers alone have spurred advertisers aplenty to pony up.
Actual content aside, Vox stands to gain handsomely in terms of image among Snapchat's demographic simply by being held up alongside CNN as one of the more "serious" informative channels on Discover. Time will tell if it can capitalize on its new privileged place and cement itself as a mainstay among the young and tech-savvy. It's also an open question whether Snapchat will open Discover to non-media B2B and B2C brands or keep it highly selective and information-focused.
Snapchat is one of the topics that will be covered in our Dec. 17 Visual Storytelling 101 Webinar, where speakers from McDonald's, Bayer and Solomon McCown & Co. will share their expertise on transforming your brand or client into a visual powerhouse across platforms. Register today!
Follow Ian: @ianwright0101