Shortly after the Volkswagen (VW) crisis erupted, we asked the carmaker's communications team for an interview to explain its strategy. It responded quickly, agreeing to an interview when appropriate. This week John Schilling, general manager, product communications, told us that he is "not ready to speak at length on what we are doing...from a PR standpoint. At least not now." He added, "I will say we have taken the necessary steps to address this issue with our employees, our dealers and our customers. Our agency of record, Edelman, is assisting us through this." He noted, "As environmental protection and sustainability are among Volkswagen's strategic corporate objectives, the company takes this matter very seriously and is cooperating with the investigation [and is]...committed to finding a remedy...as soon as possible. We want to assure customers and owners of these models that their automobiles are safe to drive, and we are working to develop a remedy that meets emissions standards and satisfies our loyal and valued customers. Owners of these vehicles do not need to take any action at this time." Schilling mentioned, as our timeline shows, VW has halted dealer sales on new and pre-owned diesels and created a consumer microsite. "We've also created a special tab on our media site, (http://media.vw.com/releases/category/18/) where we issue company statements or press releases." As the timeline indicates, the emissions situation has been brewing since 2014. We are curious if/when VW's communications team began preparing for it.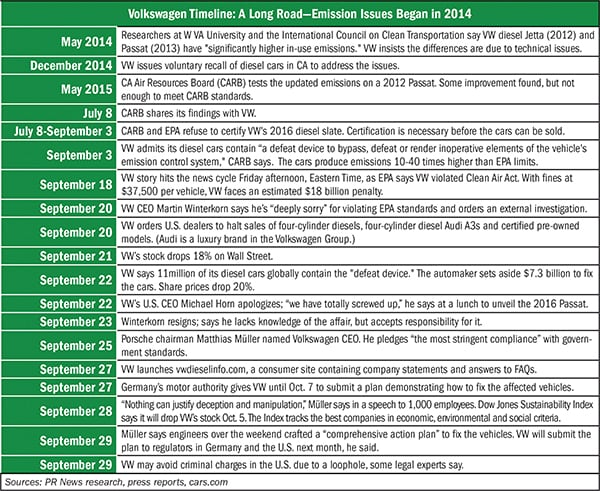 CONTACT: john.schilling@vw.com
This article originally appeared in the October 5, 2015 issue of PR News. Read more subscriber-only content by becoming a PR News subscriber today.