It's becoming a popular refrain, but here it is again: Video continues to drive most social media activity. And at least one brand, Fox News, is paying attention.
Social amplification—the sum of shares and retweets across Facebook and Twitter —provides a sense of what's resonating with social audiences. Small surprise to find social amplification on Facebook and Twitter increasing during the first half of the year vs. the same period in 2014, according to data provided exclusively to PR News by Shareablee (pie chart). During this period, the average U.S. brand increased its Facebook posts 21 percent. Here's where video comes in. Fox News led the dominant Media & Entertainment category (18.8 million shares, bar chart), with videos generating 53% of shares. Not by coincidence Fox News increased its Facebook video posts by 353 percent in H1 2015. Trailing Fox News? "America's Funniest Home Videos," at 18.3 million shares.
In publishing, again video was the story. BuzzFeed Video led the way, with 24.3 million shares, 109 percent more than the Huffington Post. BuzzFeed's top vids were adorable animals and baking hacks, including how to make Nutella-stuffed pancakes. Yummm.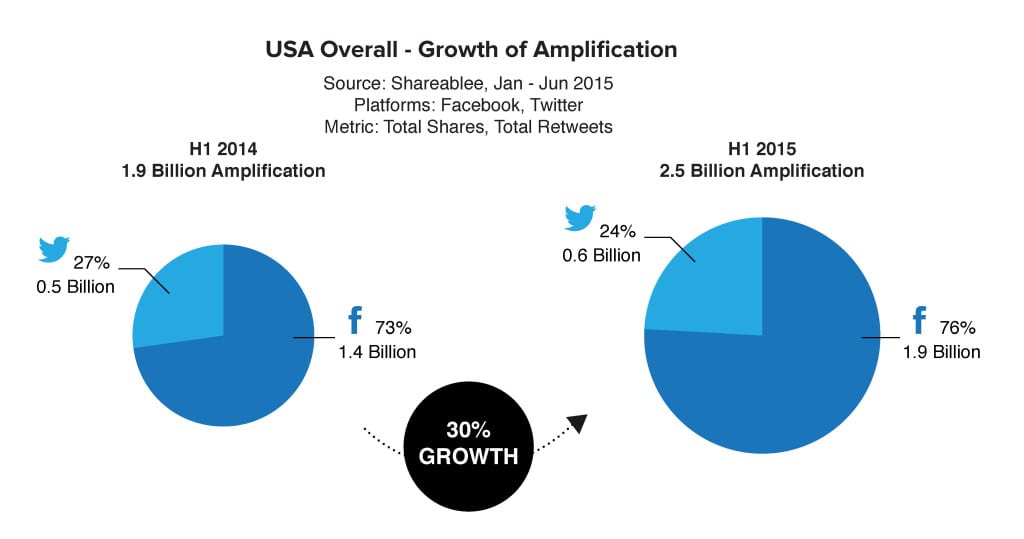 This article originally appeared in the August 24, 2015 issue of PR News. Read more subscriber-only content by becoming a PR News subscriber today.