Some brands may be looking at a growing stock price. But their investment potential may be suffering for the long-term, which means they have to do a better job telling their story.
▶ The Unyielding Power of Perception: Sure, things may look great on paper. But when it comes to how the public views your brand, the perception is out of whack. Case in point: the investment potential (negative) ranking of major brands, as compiled by brand consulting company CoreBrand. Take pharmaceutical giant AstraZeneca. While the company's stock grew 47 percent in 2013, that same year it's CoreBrand ranking dropped to 363, down from 191 in 2012. Many of the companies on the list have relatively healthy stock prices, but their communication with the public may be lacking, leaving them vulnerable to downward investment potential. "Despite these apparent contradictions, the [list] represents a market research based look at the brands without the influence of financial analysts recommendations," said Jim Gregory, CEO of CoreBrand. "If perception is reality, the leaders of these companies have some work to do to make the perception better fit the reality."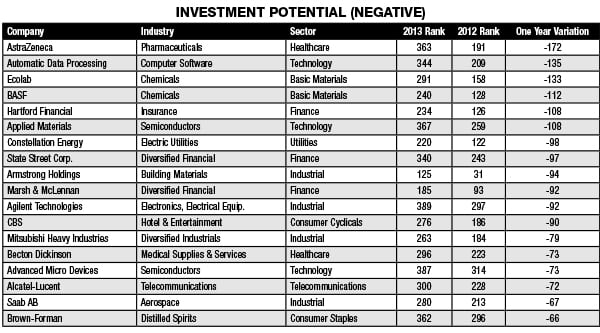 METHODOLOGY: CoreBrand conducts a continual benchmark tracking research study called the Corporate Branding Index, consisting of 1000 companies across 50 industries in the U.S. The research is conducted among a business-leader audience, with 10,000 telephone surveys completed annually. Measures of "Favorability" are determined by asking about three attributes: overall reputation, perceptions of management and investment potential. Only those who are "Familiar" with the companies are asked these questions.
This article originally appeared in the September 22, 2014 issue of PR News. Read more subscriber-only content by becoming a PR News subscriber today.