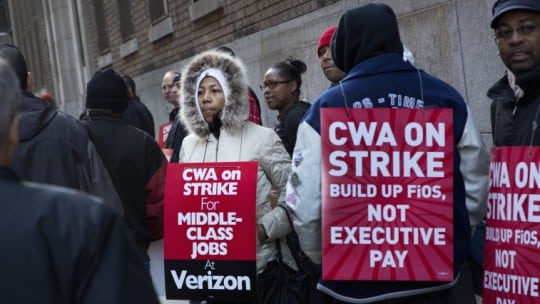 After 40,000 Verizon workers went on strike April 13, Democratic presidential candidate Bernie Sanders made it clear where he stands: "[Verizon] is just another major American corporation trying to destroy the lives of working Americans," he said, after greeting a picket line in Brooklyn. With the New York primary looming, the Vermont senator had just won the endorsement of Transport Workers Union Local 100, and while expressing solidarity with the Communications Workers of America (CWA) members striking, he told them they represented millions of citizens struggling against the depredations of corporate America. He also criticized the telecom giant for tax avoidance, outsourcing jobs and trying to take health benefits away from employees.
Rival and front-runner for the Democratic nomination Hillary Clinton also got involved, joining picketers in Manhattan and issuing a statement that echoed the criticism about outsourcing.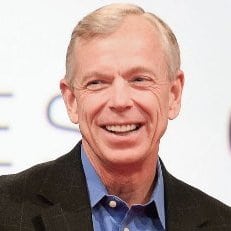 However, when Verizon CEO Lowell McAdam took to LinkedIn the same day to set the record straight, it was only Sanders who was the focus of his ire. In a post called Feeling The Bern of Reality -- The Facts About Verizon and The 'Moral Economy,' he said, "The senator's uninformed views are, in a word, contemptible." He went on to rebut claims that Verizon underpays taxes and doesn't help America with its profits, citing several examples and statistics.
Further, McAdam elucidated the nature of the negotiations, claiming that Sanders was oversimplifying and had his facts wrong. Verizon is not calling for mass layoffs or outsourcing, he said; it has only asked for "more flexibility in routing calls and consolidating some of our call centers," as well as reforms to lower the cost of employee health insurance.
McAdam's post is a test case for other CEOs and PR teams, who would do well to pay attention to how it is affecting the sentiment surrounding the negotiations. Whether or not you take McAdam's cues on platform, tone or content, this principle should be followed: if you are a high-profile brand and there is heavy political campaigning in an area where some element of controversy is bubbling up, make sure your CEO is well versed in the issue and prepared to make a same-day statement.
Follow Ian on Twitter: @ianwright0101