UPS and FedEx are reaching out to retailers to discourage them from making unrealistic shipping promises this holiday season. The Wall Street Journal reports that the shipping giants have offered several suggestions for sales and promotions to prevent a repeat of last year's Christmas shipping fiasco.
During the 2013 holiday season brick and mortar and online retailers promised last minute shipping for gifts, giving consumers a reason to procrastinate—in some cases until the 11th hour—in making their purchases. The result was nothing short of chaos. Stores and online retailers had trouble filling orders because of the high volume that came in the final days before Christmas. Bad weather in many parts of the country hampered shipping. And UPS, FedEx and other shippers were overwhelmed beyond their capacity to deliver. It all adds up to bad PR.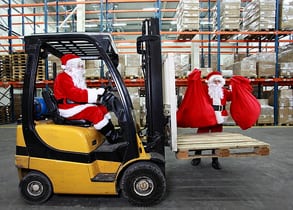 Retailers faced their share of consumer criticism, but the bulk of anger was directed at UPS and FedEx. After all, it is in our nature to blame the messenger. This year, the two companies are hoping to get ahead of the issue.
Some of the suggested changes include staggering sales offers geographically and holding sales in mid-December rather than right before Christmas. UPS CEO David Abney told the Journal, "You can't just encourage everyone to say, 'Hey, just wait and ship the last day.'"
UPS and FedEx deserve credit for taking proactive measures to improve customer service. That's good PR. Whether the retailers go along is another story. Macy's refuses to change deadlines for guaranteed Christmas delivery, and other retailers have rejected the proposal to stagger their holiday promotions.
The message that retailers embrace in this extremely competitive environment is that they can cater to customers' every need, even guaranteeing last minute delivery, which during the holiday season is increasingly difficult.
The nation's shippers are the ones who actually have to make good on those promises. It makes sense that the shipping companies are trying to find a way to make that happen. If UPS and FedEx can't get retailers to work together on this, then perhaps they will have to take the message directly to the public: You can wait until the last minute for your best deals, but don't be surprised if Santa arrives a day or two late.
Follow Richard Brownell: @RickBrownell