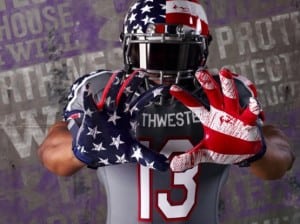 Apparel company Under Armour and Northwestern University had to see this one coming. Under Armour designed Northwestern University's flag-themed football uniforms to honor veterans and raise money and awareness for the Wounded Warrior Project. But now critics are crying foul, saying the design—appearing to splatter the helmet, gloves and cleats with streaks of blood—goes too far.
The Wildcats plan to wear the uniforms just once, for a Nov. 16 home game in Evanston, Ill., then auction them on the university's website with all proceeds going to the Wounded Warrior Project, which has been helping injured service members since Sept. 11, 2001. That's according to The Baltimore Sun.
Nevertheless, the new uniform has sparked controversy. Both Northwestern and Under Armour have responded to the uproar, but in a slightly different vein.
Northwestern University said in a statement Tuesday that the special uniforms' pattern "was inspired by the appearance of a flag that has flown proudly over a long period of time. We apologize that the design element could be misinterpreted."
Under Armour described the design as "an authentic distressed pattern which depicts a flag that has flown proudly over a long period of time," according to a statement.
Without getting into the wisdom of manufacturing a college football uniform that, at first blush, looks like it has blood splattered on it, the lesson for PR pros is that when your brand decides to push the cultural envelope you have to prepare for any potential blowback.
In a social media age, just one person (with a lot of followers, to boot) can throw a monkey wrench into the best-laid plans. (And when the U.S. flag is involved, tread carefully.)
A classic episode in crisis management, this too shall pass. But not without communicators knowing that, as with any launch, new product line or change in corporate policy, for example, you have to respect the law of unintended consequences and prepare accordingly.
Matthew Schwartz: @mpsjourno1