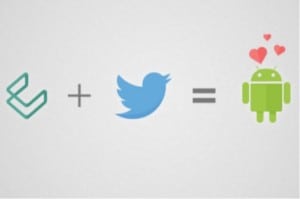 Hardly a day goes by without a big acquisition of a hot startup in the digital media world, and, most of the time, those acquisitions have a pretty significant potential or actual impact on how people communicate. And where humans communicate, professional communicators need to engage.
The latest: Twitter's acquisition of Cover, an app that helps Android smartphone users select which apps get the coveted real estate on the lockscreen. For communicators, one major takeaway is that it's yet another bet on a world increasingly dominated by smartphones and mobile communications.
Cover, which launched in beta last October, offers suggestions on what sort of apps you may want immediate access to.
"Twitter, like Cover, believes in the incredible potential of Android. They share our vision that smartphones can be a lot smarter—more useful and more contextual—and together we're going to make that happen," Cover said in a company blog post. Financial terms of the deal were not disclosed.
But for PR executives, it's a growing challenge to make sense of all the mechanics in mobile media and digital communications. PR pros not only have to understand how their audiences are communicating among themselves, but also how fast-moving technologies work, and how they're driving change.
In this excerpt from PR News' Digital PR & Social Media Guidebook, Vol. 6, Josef Komenda, senior front-end developer for Ashe Avenue, examines the differences between a mobile site and an App.
The Mobile Site. The pure mobile site is in decline these days because there are simply too many devices and screen sizes to accommodate. Trying to develop and maintain separate mobile, tablet and desktop sites would quickly become a losing battle.
Advantages:
Ability to customize presentation and content
Disadvantages:
Usually built to a very small, fixed width
Often requires separate maintenance budget
Separate sites with duplicate content present a wide array of SEO problems
The App. Apps offer a fully customized user experience, specifically tailored to a device. Since they operate as a standalone program, they can take advantage of each device's speed and optimization tools, and they can adapt to larger screen sizes.
Advantages:
Complete control over user experience
Ideal for sensitive user data
Disadvantages:
Most expensive and time-consuming option
Requires separate maintenance
Must convince users to download and use it
Does not obviate the need for mobile website solution
The security and speed of apps make them a valuable asset when a site is so complex that the experience would be compromised by the smaller screen and limited memory of a mobile device.
What do you think are the advantages/disadvantages to using these tools to get your message out?
For more on digital communications and social networks, order a copy of  PR News' Digital PR & Social Media Guidebook, Vol. 6.
Follow Matthew Schwartz on Twitter: @mpsjourno1