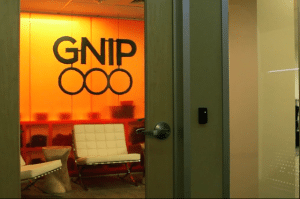 Another day, another deal on the social media front. The latest: Twitter has agreed to acquire data partner Gnip for an undisclosed price. The acquisition, which bring social data analytics in-house at Twitter, is designed to give brands more ammo when it comes to reaching their audiences via the microblogging site.
Gnip, a longtime Twitter partner, has access to Twitter's co-called fire hose, the full stream of tweets, which now average 500 million a day.
"We believe Gnip has only begun to scratch the surface. Together we plan to offer more sophisticated data sets and better data enrichments, so that even more developers and businesses big and small around the world can drive innovation using the unique content that is shared on Twitter," said Jana Messerschmidt, VP of global business development at Twitter, in a blog post announcing the acquisition.
She added: "We will continue making our data available to Gnip's growing customer base. And with the help of Gnip's Boulder-based team, we will be extending our data platform—through Gnip and our existing public APIs—even further."
For PR executives and communications, the deal signals the growing influence of social data analytics to shape marketing campaigns, whether from the get-go or on the fly.
As more and more social media campaigns are dictated by the data, PR managers will have to enhance their ability to crunch the proverbial numbers.
With that in mind, here are a few tips on using paid Twitter promotions to amplify your messaging, compliments of Stephanie Schierholz, manager of digital and social marketing at Raytheon Co.
The content to which you drive traffic needs to be engaging.
Be hands on: monitor and tweak as you go.
Get to know your Twitter Ads rep(s).
Let the Twitter algorithm A/B test for you by loading more than one tweet (but remember to change only one item in the tweet your test).
Promoted posts with an image earn significantly higher engagement rates.
Use an image that fits the preview pane 2:1 ratio so it does not need to be expanded (triggering a click).
Use "Twitter Cards" and conversion tracking.
Keep clickable items to a minimum (avoid too many # and @).
Follow Stephanie Schierholz on Twitter: @schierholz
Follow Matthew Schwartz on Twitter: @mpsjourno1
To learn about social media marketing, attend PR News' Social Media Summit, with a Taste of Tech, which will take place June 3 at the Grand Hyatt New York.