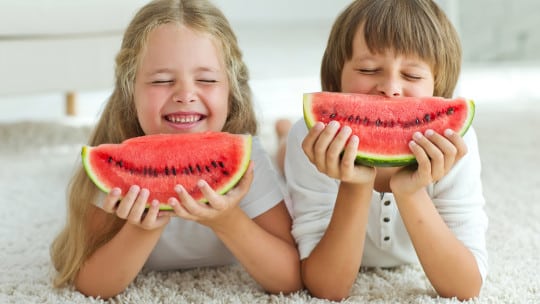 This season, your Trending tab is probably awash in bizarre holidays like National Watermelon Day (Aug. 3), National Lazy Day (Aug. 10) and National I LOVE My Feet Day! (Aug. 17).
While brands must submit to the National Day Calendar to vie for their own special interest holidays—and fork over $4,500 if selected—there are still ways to use existing National Days to flaunt your brand's fun side. (Still, brands should avoid stretching a trend too far from their wheelhouse—as with all timely posts, authenticity is paramount.)
On #NationalWatermelonDay, we took a look at 3 brands who saw high engagement around the trending topic and pinpointed how each contender entered the conversation without raising too many eyebrows.
B2C: Royal Caribbean UK's beachfront fashion. The travel brand used a simple camera trick in a vacation locale to get viewers craving a getaway.
We've been getting creative to celebrate #NationalWatermelonDay ?
Who likes our all-natural new look? pic.twitter.com/gLJrhUL3AS

— Royal Caribbean UK (@MyRoyalUK) August 3, 2017
Nonprofit: Boston Museum of Fine Arts' still life reminder. The Boston institution educated followers on the summer fruit's appearance throughout 19th century folk art.
Although 19th c. European still lifes rarely featured watermelons, they were common in folk & fine art in the U.S. #NationalWatermelonDaypic.twitter.com/03jo8WfkJX

— Museum of Fine Arts (@mfaboston) August 3, 2017
---
Get creative with your social strategy with trainers from Royal Caribbean, SAP, Guinness World Records, United Way Oct. 17-19 in Miami at The Digital Communications & Marketing Show presented by PR News.
---
B2B: Compound Interest's chemistry lesson. Researchers, institutions and publications alike commission educational chemistry graphics like this one through the Compound Interest site (the solo side-hustle of a U.K. science teacher).
It's #NationalWatermelonDay – here's the chemistry behind their colour, aroma, and random explosions: https://t.co/FVX2w5Gip8pic.twitter.com/vY1fCzcDeL

— Compound Interest (@compoundchem) August 3, 2017
You can populate your editorial calendar with relevant upcoming National Days by checking out the official list.
Follow Sophie: @SophieMaerowitz