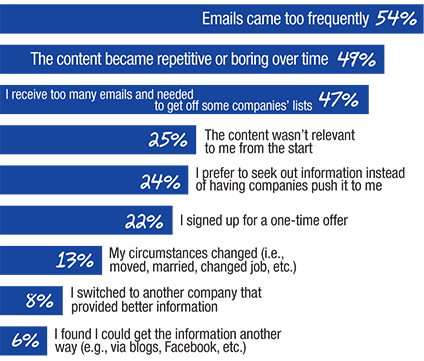 Frequency, relevancy and boredom are key factors in why people opt out of e-mails, according to a February study by ExactTarget. The secret to keeping them? "Promos, discounts, freebies and the air of exclusivity," says ExactTarget's Jeff Rohrs. Source: ExactTarget
E-mail is the grande dame of digital communications. Long the platform of choice for online outreach to customers and prospects, e-mail no longer garners most of the attention from communicators, many of whom are looking to integrate social media platforms like Facebook and Twitter into the mix.
Yet, says Jeff Rohrs, principal and head of marketing research and education at ExactTarget, e-mail is "the original social media." And as an outreach platform it still carries a lot of weight for most communicators and consumers. ExactTarget's new study, "The Social Breakup," reports that 95% of U.S. online consumers use e-mail, and 93% of them are subscribers to at least one permission-based e-mail per day.
The ExactTarget report strives to determine why consumers "break up"—or unsubscribe—with e-mail (as well as Facebook and Twitter). The main reasons, says Rohrs, are threefold:
• Frequency: The customer receives e-mails too often, or not enough.
• Irrelevance: A brand doesn't provide e-mail content that's relevant enough.
• Boredom: Lack of compelling content.
The study also finds that consumers are becoming more aware of the control they wield in the acceptance of e-mails: 77% say they are more cautious about providing an e-mail address.
These findings lead to some basic questions: In 2011, how effective is e-mail as a communications platform, and how are e-mail campaigns evolving given the rise of social media? To answer those questions, PR News reached out to the nonprofit world, where, traditionally, e-mail campaigns are plentiful, to get some answers to those questions.
CHOOSE YOUR TARGETS
Tom Jelen, director of online communications at the American Speech-Language-Hearing Association (ASHA), says that over the past four or five years response rates for its e-mails had been dropping, but started to level off in 2010. In general, continues Jelen, e-mails generate excellent ROI, mainly because "we've gotten much better at scheduling, targeting and tracking e-mail results," he says.
The ASHA is a unique cause, says Jelen, because it's audience is well-defined (audiologists, speech pathologists and scientists) and the ASHA has a lot of data on its members in terms of where they work, where they live and whether they've purchased ASHA products and services in the past. The association is very targeted in its e-mail approach, always sending out to certain subsets of members—never sending out blanket messages.
TIMING IS EVERYTHING
Blanketing is all too common, says Rohrs. "Sometimes organizations are so eager to get messages out, they oversend, and deliver to too broad of a group," he says. Communicators need to understand that when a person subscribes to an e-mail, they expect exclusivity and cadence, as opposed to a platform like Facebook, where community and 24/7 conversations are the norms.
The ASHA seems to have exclusivity and timing down, as Jelen contends its e-mail program is strong in generating communications ROI. "It's much more effective than sending out direct-mail pieces," he says.
Jelen does say that two important trends have necessitated adjustments in the ASHA's e-mail program: mobile and social media. "We're just scratching the surface on mobile, but it's made us consider our content more carefully," says Jelen. Now, shorter subject lines and simpler sentences are the norm with the small screen in play. Jelen says that e-mails through mobile will get even more interesting as people migrate from browsing mode and get more comfortable with completing transactions with their smartphones.
Lorraine Carli, VP of communications at the National Fire Protection Association (NFPA), agrees that e-mail format and content are changing thanks to mobile. "Our copy is shorter, crisper, and always leads people to the right place for more information if they want it," says Carli.
E-MAIL/SOCIAL CONNECT
Social media has also had an effect on the NFPA's e-mail outreach—enhancing it, believes Carli. Adding social media platforms like LinkedIn, Facebook and Twitterhas allowed the NFPA to segment audiences better. "We look at these channels and find out which people go where," she says. Plus, says Carli, adding social media elements to other tools they use, whether it be press release or e-mails, enhances the product.
Rohrs says it's a two-way street, as social media needs e-mail just as much as e-mail needs it. "You need something to pull people in, and e-mails do that," says Rohrs, who cites Groupon's success as an example. Because of social media, e-mail use is up, contends Rohrs, but anecdotally, he does feel that organizations sometimes forget about the grande dame, going instead for newer kids in town.
Rohrs wonders, for example, if Kenneth Cole, after his now infamous Cairo tweet, sent an e-mail to subscribers explaining the situation. "If you don't enlist subscribers, you're missing out on an army of fans," says Rohrs. It's times like that in which Rohrs believes PR pros can take advantage of with e-mail. "There may be thousands of people who could be your ambassadors when times are tough," he says. "Your e-mail subscribers have the most reasons to protect the brand."
HERE TO STAY?
The NFPA's Carli says that her organization is doing more with social media, but has yet to cut back on its e-mails. That's not to say it won't happen in the future, but it's a long way off, she says. "It will be interesting to see, because as we add different tools we hope that we can take things out of the mix, too," says Carli. But all the bases must be covered, she says.
Jelen has some e-mail advice to help cover those bases:
1. Consider Context: When and how a subscriber receives a message is important.
2. Embed Video: YouTube takes care of the ASHA's delivery logistics for mobile devices. "If you're not a media company, you should consider YouTube to handle video delivery in your e-mails," says Jelen.
3. Set Metrics Beforehand: "It's easier to track a campaign if you set your goals before you start," he says.
One thing is for sure, e-mail is not dead by a long shot, says Rohrs. In fact, it appears to be thriving due to its integration with social networks. So perhaps the grande dame will hang on for another couple of decades. PRN
CONTACT:
Jeff Rohrs, jrohrs@exacttarget.com; Tom Jelen, tjelen@asha.org; Lorraine Carli, lcarli@nfpa.org.