Company: Colgate/Blue Moon
Agency: North 6th Agency
Timeframe: December 31, 2009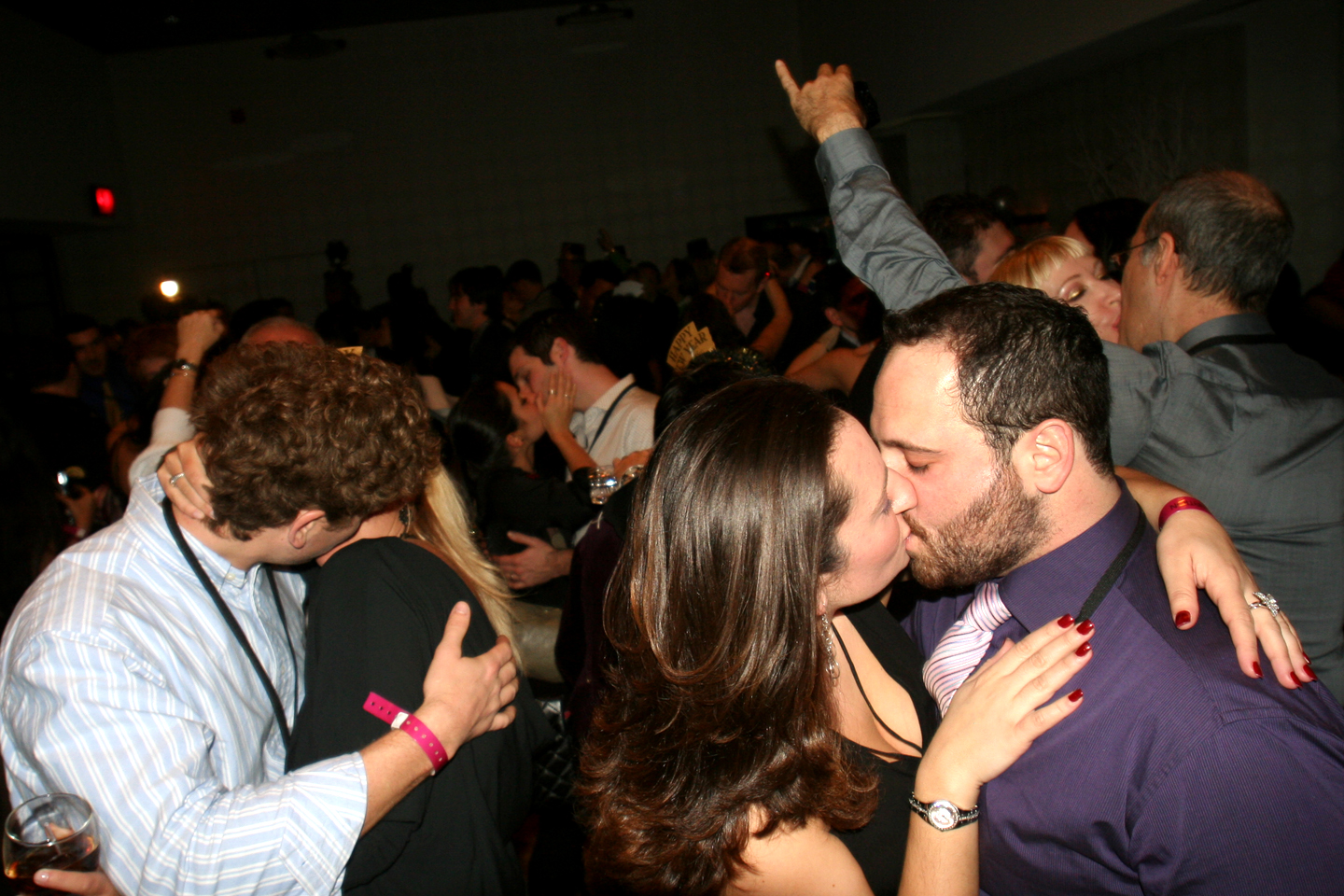 New Year's Nation 2010 attendees set the Guinness World Record for the most couples kissing simultaneously in multiple locations.
Photo courtesy New Year's Nation
The 10-second mark of the countdown to midnight on New Year's Eve is a special time for a lot of revelers—a time of reflection and partying. Jann Yogman, director of event coordination at North 6th Agency, saw an opportunity to make this singular experience more interactive and lasting.
After spending years doing production work on Late Night with Conan O'Brien and with Michael J. Fox's New York-based production and development company, Yogman had the tools and contacts to build an event platform that would connect thousands of people in multiple cities. "I combined my broadcast background with what I felt was the need for this type of event across the nation, and eventually came up with the concept for New Year's Nation," says Yogman. "But the idea had to be more than just throwing a bunch of parties."
What made New Year's Nation different was the incorporation of technology into the mix. The series of New Year's parties, held simultaneously in 10 cities, were filmed and streamed online, making the experience shareable through social media, which enabled much greater audience reach and awareness.
BRAND SAVVY
This combination of partying and technology also made sense for brands seeking national exposure in a coveted demographic: young professionals in their twenties and thirties.
After three years of organizing events and building the New Year's Nation platform, in 2009 Yogman took the concept to his boss at North 6th, president and CEO Matt Rizzetta. "When we launched our agency in 2009, a lot of clients were coming to us looking to maximize their brand exposure with events," Rizzetta says. The 2010 New Year's Nation event would fill that bill, as key brand partnerships would be formed, propelling the New Year's Nation platform to great success.
SPONSORSHIP OPPS
"The real difference between building the New Year's Nation platform and taking it to the next level with the North 6th Agency was to really develop sponsorship offerings in unique ways that brands could really be integrated into the night," Rizzetta says.
Around the same time, the PR agency Cohn & Wolfe approached Yogman with an intriguing proposition—to help promote client Colgate's new product, Wisp, a disposable, no-rinse toothbrush that was new to the market, via New Year's Nation.
Brainstorming sessions resulted in a juicy idea: using Yogman's potent New Year's Nation attendee list to organize partygoers for an attempt at a new Guinness World Record for most couples kissing at the same time in multiple locations. This would be assisted, on a promotional level, by the breath-freshening powers of the Wisp brush. One major attraction for Colgate and other brands in regard to this event, says Yogman, was that it occurred in multiple locations across time zones, maximizing exposure.
Beer brand Blue Moon also came on board as a partner and "strike of midnight" beverage. It turned out that Dec. 31, 2009, was an actual blue moon. That's when there are two full moons in any given month. Blue Moon brewed a special New Year's Eve brew bottles that was offered as a "champagne toast" in New Year's nation venues. "The partnership with New Year's Nation was a natural fit, considering their ability to reach our targeted beer drinker and build buzz," says Blue Moon spokesman Tom Ryan.
North 6th set out to leverage the New Year's Nation platform for New Year's Eve 2010 with the following objectives:
• To attract a record number of attendees and encourage them to spread the word about the event to friends.
• To use the social media and technology innate to the New Year's Nation platform to get greater impressions of brands in media.
• To organize events that would maximize brand exposure and reach.
LET'S PARTY
Yogman coined the taglines "Join the Party That Connects the Nation" and "10 Cities, 4 Time Zones, 1 Outrageous Party" to set the tone for the events. He developed a video upload contest called "What's My Resolution?" in which visitors to the NYN Web site could share their New Year's resolutions.
One important consideration was where to hold the events. Previously, parties had been held in Los Angeles, New York, Austin, Texas, and Philadelphia. "Our team spent a lot of time researching specific areas and venues, getting the local vibe," says Rizzetta. This process did not always go smoothly. Thirty-six hours before New Year's Eve, Yogman learned the NYN event in Los Angeles was struggling with technical difficulties, and he made the decision to cancel the L.A. event and add a Scottsdale, Ariz., party to the lineup.
To get to know attendees and provide valuable insight for brands, Yogman collected guest demographic information when partygoers bought tickets, and followed up with guest surveys after the event.
Yogman also managed relationships with strategic partners and prepared local event managers for press opportunities, establishing them as brand ambassadors. "In terms of people power, I personally put in 18- to 20-hour days during November and December," Yogman says. Putting together a 10-city event on New Year's was a yearlong effort, requiring an army of independent contractors, including event managers on the ground in each city, production crews at each party and a broadcast producer based in Dallas, says Yogman.
SEALED WITH A KISS
While Cohn & Wolfe made sure that all signage and branded materials were present at the events, the North 6th team's job was to make partiers aware of the lip-lock session. The agency sent out messages to all ticket holders ahead of time, providing details about the record and what they would need to do.
Coordinating the kiss was tricky. "How do you get 10,000 people across the country to participate in something that has to happen at the same time?" asks Yogman. He picked New Year's Eve in the Central Time zone as the time for the kiss. "[We] knew we would have as many of our guests under Nation's roof as possible [at that time]," he says. Verifiers in each city were trained in officially documenting the record attempt.
SPECIAL MESSAGE FOR THE VIEWERS AT HOME
To maximize media exposure for Colgate and Blue Moon, the North 6th Agency needed to ensure that not only were party guests saturated with proper messaging, but friends and family across the country were tuning in. The team sent e-mail messages to guests before the parties, reminding them that they were going to be featured in a live simulcast. Attendees were invited to be ambassadors for the event, and were encouraged to share through Facebook or Twitter. Fans of the New Year's Nation Facebook page received a message that if there wasn't an event in their city they could still participate through an online feed.
The broadcast itself was provided through another partnership deal with Livestream and hosted on the Livestream site, the NYN Web site and NYN Facebook page. Livestream provided the infrastructure for feeds from all 10 cities with some unique functionality—viewers could see the centralized "best of" feed, or footage from the city of their choice. Viewers could post comments on any of these viewing platforms.
NYN By the Numbers
When the party was over, New Year's Nation posted the following results:
• Over 10,000 guests
• Over 50,000 broadcast viewers
• Over 250,000 unique Web site visitors.
• 1.5 million HTML invites distributed
• Media impressions in the millions, including press mentions in USA Today and on Fox & Friends.
Yogman was interviewed on CNBC's Closing Bell about the event and E! News featured a recurring story about NYN during the weekend following New Year's Eve. And yes, the record for simultaneous kisses across the country was set: 957 couples.
Blue Moon was satisfied with its role in the event. "We received a very positive response, reached more consumers than anticipated and heard great feedback from New Year's Eve revelers," says Ryan.
North 6th Agency plans to expand its events platform, but with the economy still struggling, the message of luxe partying may be toned down and future events will probably have more of a charitable focus. PRN
CONTACT:
Jann Yogman, jyogman@north6thagency.com; Matt Rizzetta, mrizzetta@north6thagency.com; Tom Ryan, Ryan2.Thomas@mbco.com.
Playing Nice With Other PR Agencies Has Its Advantages
The old adage that two heads are better than one can also be true when it comes to PR agencies. For example, North 6th Agency and Cohn & Wolfe teamed up for a successful product launch of Colgate's Wisp toothbrush. North 6th's Jann Yogman offers tips for a successful agency team-up:
• Understand the benefits of teamwork. A lot of times agencies have the opportunity to align in a positive way that is beneficial for both the agencies and their clients, says Yogman. By offering C&W the New Year's Nation platform to help launch Wisp, it was a win-win for everybody.
• Don't hold a client too close. There can be a tendency for agencies to be very protective of their clients and what they do. But, according to Yogman, taking off the blinders when partnering with a competing agency can create a tremendous opportunity.
• Coordinate timing. Because of the multiple venues and time zones, says Yogman, there needed to be careful coordination between agencies to attain maximum impressions for both the Colgate product and the New Year's Nation platform.
Expand the Reach of Live Events With Online Streaming
North 6th Agency director of event coordination Jann Yogman's background in production helped him combine event planning and technology to great effect. Here are a few tips for successfully streaming a live event:
• Give people something to talk about. Facebook and Twitter feeds announced when something happened at one of the New Year's Nation parties that outside commentators could engage with, like when DJs took the stage or the Guinness World Record for couples kissing simultaneously was about to be set. The fact that their comments were then streamed live to partygoers made participating all the more worth their while.
• Make viewing flexible and empowering. Viewers had options for participating in the party from home. Three different sites hosted live feeds and viewers could customize feeds from different cities and basically become "directors," says Yogman.