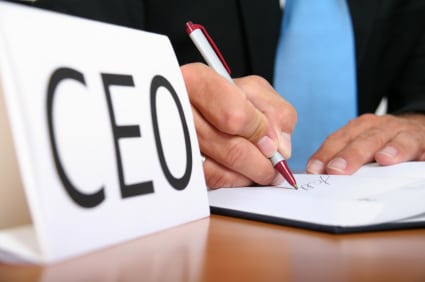 CEO Sociability Nearly Doubles in Two Years: The online sociability of the world's largest company CEOs rose dramatically in the past two years, says a Weber Shandwick study.
In 2012, 66% of CEOs of the world's top 50 companies engaged online compared with 36% in 2010.
Other study highlights include:
The two-year growth spurt comes directly from CEOs' heightened visibility on their company websites (32% to 50%) and on online video (18% to 40%).

The 50% of CEOs who are visible on their company websites most often appear on the homepage and About Us pages (e.g., letters, pictures or video) and share more information than just the executive's name.

CEOs are using video to promote their company narratives. Growth in video is nearly evenly divided between CEOs appearing in videos on company websites and on corporate YouTube channels.

Despite increased visibility online on websites and in videos, CEOs have barely budged in their use of social networks—from 16% in 2010 to 18% in 2012. U.S. CEOs are the most likely to be on social networks (40%) while European CEOs are the most likely to be on YouTube (38%). None of the respondents from either APAC or Latin America indicated that they have social network accounts.
Source: Weber Shandwick

Follow Scott Van Camp: @svancamp01