To some observers, Twitter may seem like a cacophony of short conversations strung together with little rhyme or reason, containing attachments that may or may not pertain to the pervading stream of consciousness. In short, online conversations that easily stray from topic to topic.
However, there is a way to keep conversations on point: by holding a Twitter chat (or tweet chat)— a prearranged chat via Twitter tracked by a special hashtag that has a scheduled time and a leader, or speaker. "A Twitter chat is perfect for people to share ideas—which allows you to note trends that may be important to your organization," says Heidi Sullivan, VP of media research at Cision.
While the true origins of Twitter chats are unknown, Shonali Burke of Shonali Burke Consulting (and author of the Waxing UnLyrical blog— www.waxingunlyrical.com/) says mom bloggers may have been first adopters.
Now, she says, nonprofits and corporate brands are starting to deploy regular Twitter chat sessions. Burke hosts the #measurePR chat that covers PR measurement topics, while Cision is the sponsor of #journchat, a gathering of journalists, bloggers and PR folks moderated by PR maven Sarah Evans.
CHAT BASICS
So how do you get started with a Twitter chat? Burke recommends first thinking hard about whether you need to have one. "Ask yourself if you can piggyback off of other chats that are relevant to your own organizations," says Burke, who recommends perusing the following link. "You don't always have to start something new."
However, if you think your own chat will pay more dividends, then the first step is what every PR pro does before creating an initiative: research. Ask your current Twitter followers, Facebook friends and via e-mail the topics they'd like to cover in a chat. Then, Sullivan recommends asking your social followers to suggest questions around that topic.
CHAT PROMOTION
Promoting the event is next. Sullivan advises to initially target a few influencers to help spread the word about the chat. "Even just two or three people who have a lot of followers can draw a good crowd to the chat," says Sullivan. Then, the usual digital channels—like Facebook, your Web site and e-mails should be deployed to fill the audience out
Over at influence rating company Klout, marketing manager Megan Berry doesn't have to promote #KloutChat much. "There's a level of controversy and interest about our company and its scores," says Berry. So, it doesn't take much to draw a large group of influence-interested tweeters every other Wednesday.
CHAT FORMAT
Berry has used plenty of trial and error and analysis to come up with a chat format that works for Klout. She starts with a short intro that explains chat parameters, then goes through six to 10 questions on a specific topic. Then she opens it up for questions. The big challenge for the hour: Some audience members may have customer service issues that can completely take the chat off point. For that, Berry encourages those people to send an e-mail.
Sullivan seconds scope creep as a Twitter chat problem. "Sometimes the conversation turns to something unrelated to the topic, but communities tend to be self-policing," she says. Which is a positive, continues Sullivan, as the chats tend to run themselves.
POST-CHAT ANALYSIS
Once the event is over, how do you judge its effectiveness? At Klout, the basics of how many participants and impressions count with management. But mainly it's used as an engagement and research tool. "We use this as a way to take the temperature of our community—how they're feeling and what they are talking about," says Berry.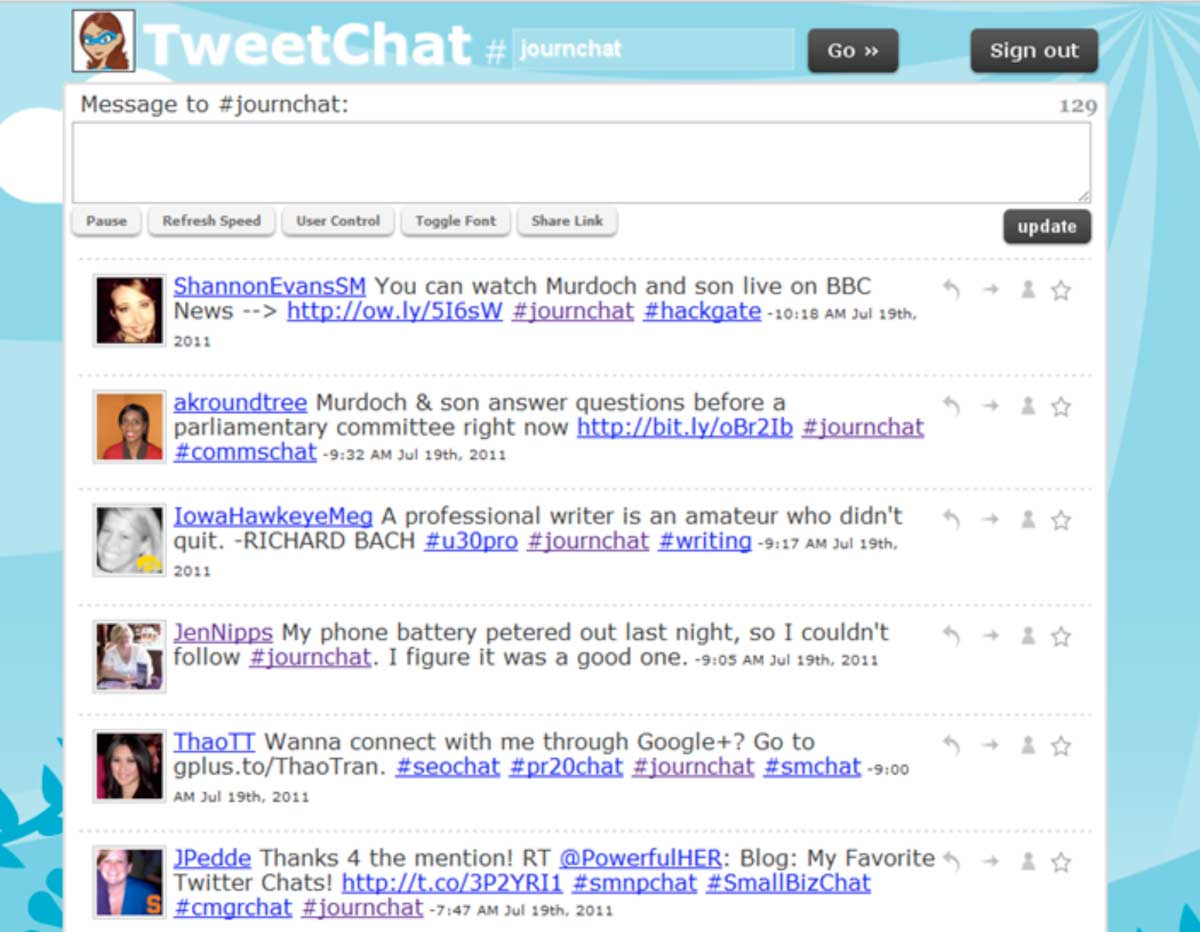 To follow Twitter chat conversations more easily, Cision's Heidi Sullivan recommends using Twitter Search or a service like TweetChat (pictured) or TweetGrid. Both of the platforms are free to use. Source: Cision
HELPFUL CHAT TIPS
Burke, who has plenty of experience both developing and executing chats, and as a moderator, has learned a few tricks of the Twitter trade to make a Twitter chat successful. They include:
1. Organize the chat well ahead of time, and be ready to devote resources to it.
2. Number the questions, so people who come on late can follow the conversation flow.
3. Ask the audience to e-mail any questions to you, and remind them to use the set hashtag, and the chat platforms TweetChat (see the screen grab) or TweetGrid.
4. Shorten any URLs you plan to post during the chat ahead of time.
5. Be aware that it's Twitter. "There's some things that you can't control," says Burke. "Just try to have good conversations, and go with the flow."
Klout's Berry, meanwhile, has a tips list of her own, developed over the eight months she's headed up #KloutChat. Her advice includes:
• Before you take action, research and listen. Find out what chats already exist (to start looking, check out the Google doc spreadsheet at http://bit.ly/ovcDED), and look for outside chat opportunities. "I've been a guest now for 10 Twitter chats that are in some way related to us," says Berry.
• Get your engaged influencers involved. "We sometimes bring in people we know and have something to say as guests, to keep the conversation going," says Berry.
• Do advance planning. Write out your intro and questions before hand, so you can focus on what people are saying during the chat. But prepare to be flexible.
• Have customer support channels ready. "There's a challenge to handling this nicely," says Berry. "Just say 'I'd love to have you send us an e-mail at this address.'"
Berry sums things up by suggesting that a Twitter chat should have the vibe of people standing around a bar informally talking. We'll drink to that. PRN
CONTACT:
Heidi Sullivan, heidi.sullivan@cision.com; Shonali Burke, sburke@shonaliburke.com; Megan Berry, megan@klout.com.