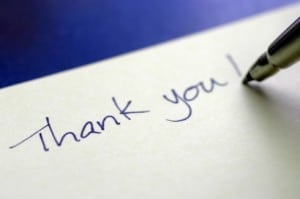 Seeking employment can be a daunting task, especially in a still-shaky economy, and landing a gig in PR is no exception. In the current climate, finding the right PR job goes beyond submitting a compelling cover letter, a pointed resume and presenting your best self during an interview. There is also the post-interview.
The post-interview pathology can be one of uncertainty and excitement. Still, it is important that you consider this time as essential as the moments that led up to the job interview in the first place. Most critical is that after your interview you follow up with a thank you note.
Sending a handwritten thank you note is a nice gesture and adds a personal touch. But an email can be just as effective, as long as it doesn't seem generic. What is crucial is conveying your gratitude for the employer's time and consideration and reiterating why you are the best candidate for the job.
A thank you note should not be an exhaustive list of credentials, but it should touch on your strengths and what an employer expects out of you, the prospect. Belinda Hulin compiled a list of attributes in PR Tactics that employers are looking for when they hire a new PR candidate, which should be considered when you construct your thank you note:
Good writing
Obvious intellect
Cultural literacy
A good nose for news
Media savvy
Established contacts
Strong business sense
Broad communication experience
Specialized experience
These don't all need to be addressed in your thank you note, but as a communication professional you should be able to craft a short narrative that you posses these qualities. That is why good writing is still your best weapon, and a thank you note is a great way to showcase that talent.
Follow Caysey Welton: @CayseyW