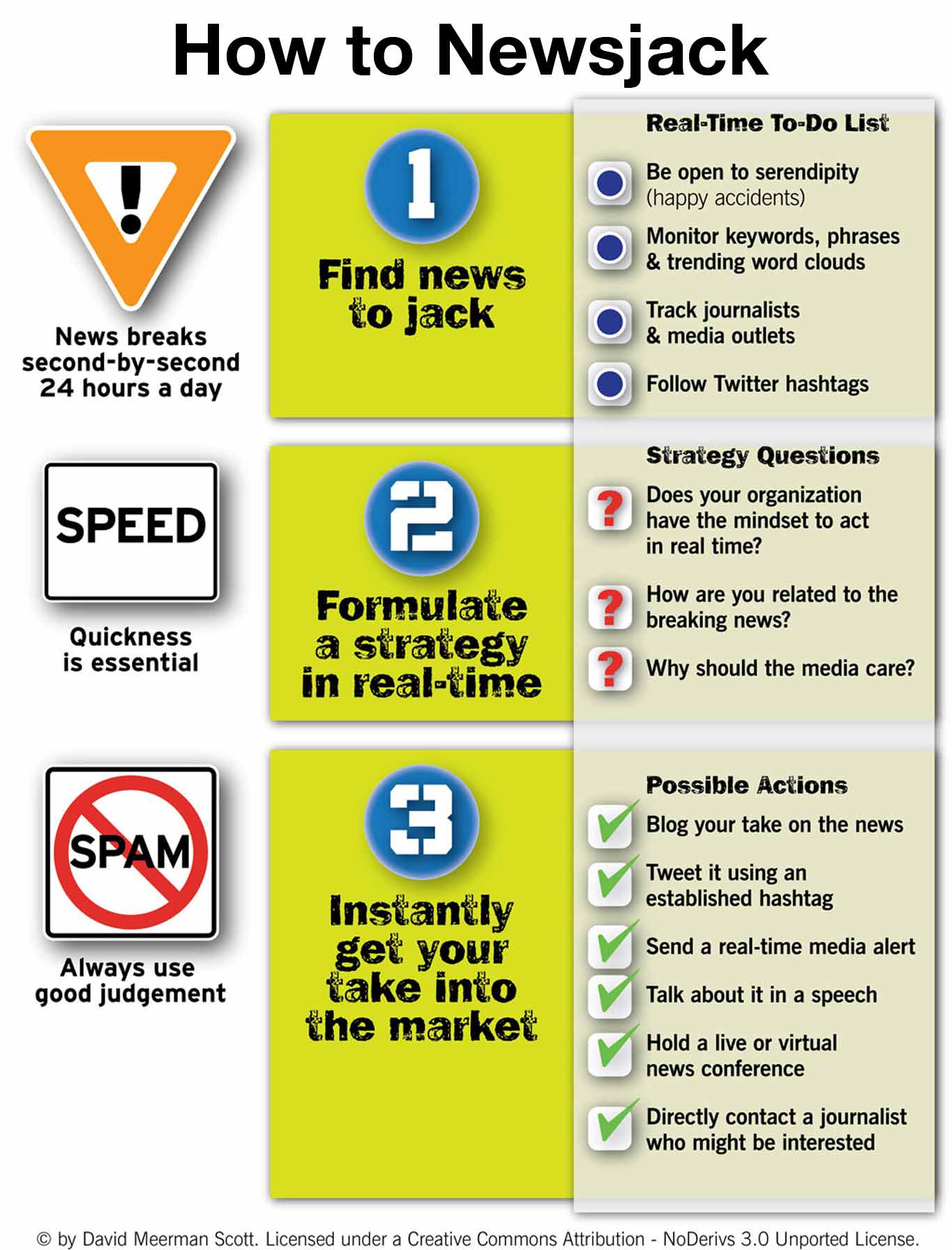 Speed and flexibility will give you a leg up on your competition when it comes to real-time communications, says David Meerman Scott, who recently released a book on newsjacking techniques.
When backup signal caller Tim Tebow was sent to the New York Jets, the famed New York Midtown institution, the Carnegie Deli, announced that it had concocted a sandwich in his honor. The "Jetbow" is a 3.5-pound monstrosity filled with corned beef, pastrami, roast beef, American cheese, lettuce and tomato on white bread, reported the New York Post.
In Nov. 2012, as President Obama was set to visit Australia, the chief minister of the Northern Territory announced that it would provide "crocodile insurance" for the commander-in-chief (as if rising gas prices aren't enough of a threat).
Call it what you will—piggybacking, newsjacking or real-time marketing—the fact is, taking some breaking news that is not yours and making it your own has been going on in one form or another since the dawn of media relations.
Now, however, because of digital/social PR and the 24/7 news cycle, this already solid PR strategy has become even more effective, given the bountiful news popping up around the world—and Google Alerts.
The practice has come to the PR forefront to such a degree that marketing/PR guru David Meerman Scott has written an e-book about it: Newsjacking: How to Inject Your Ideas Into a Breaking News Story and Generate Tons of Media Coverage (Wiley, 2012).
In the past, says Scott, media relations pros have taken advantage of newsjacking in a couple of ways: 1) leveraging an event that you know is coming, like the Super Bowl, and 2) reach out "manually" to reporters to get their attention. Those days are gone, says Scott. "What is different now is that Google indexes in real time, creating a piece of content that reporters will find at that precise moment," he says. "That's why the technique for newsjacking is different now.
NEED FOR SPEED
And the major component of this technique, says Scott, is speed. For many companies, speed is scary. If they want to partake in real-time communications, there is no time to check with the lawyers to see if a story angle is OK.
The problem is that PR pros spend a lot of time on long-term planning. "They forget about 'right now'," says Scott. Yet "now" is when the opportunity is. Scott tells the story of B2B software company Eloqua, and how it newsjacked the story about a competitor, Market2Lead, that was acquired by software giant Oracle.
Within two hours after Oracle issued a rote press release about its acquisition, the CEO of Eloqua had written a blog post relating how great Oracle's acquisition was for the industry, filling in the blanks of the press release with great information and context.
Then Eloqua e-mailed a link to that post to every Market2Lead customer for which it had an address. The result was more than $1 million worth of new business to Eloqua. Who says ROI is difficult to prove in PR?
GIVE IT THE SMELL TEST
All of this sounds bulletproof, but there has to be a smell test before you commit an act of newsjacking. "There are times when it's distasteful to jump on the bandwagon of a story," says Dave Armon, president of marketing/PR monitoring service Critical Mention.
Armon gives the example of a former client that made fire detectors. When news of a fatal fire broke, the company would send out a press release that stated: "This is an example of a death that didn't have to happen." Granted, the company did it through the guise of a "safety institute," but the message was much too obvious and harsh.
On the cusp of newsjacking bad taste was Hustler magazine's Larry Flynt, who jumped on Anthony Weiner's resignation after the New York politician was caught with his pants down on the Internet. The day Weiner resigned, Flynt decided he wanted to be in the "second paragraph" of the national story, says Scott. So he publicly offered Weiner a job at Hustler as VP of the Internet division.
There's is only one Larry Flynt, however. So Armon says you need to ask yourself, "Is piggybacking off this news in good taste and on message?"
FLAGGING HOT TOPICS
Yet there are companies that don't shy away from the speed of real-time communications. CSC, a B2B software company, scans the news daily for opportunities. "If a hot topic falls within our expertise, we immediately flag it to a subject matter expert," says Chris Grandis, corporate director of global public relations at CSC.
When the White House announced its "Big Data" plan on March 29, Grandis pushed the news to a subject matter expert, who quickly wrote a bylined article on the subject that was pitched to the media.
CSC often gives context to breaking news stories through posts on its blog, Executive Views, which then gets pushed out to the media. On a more breaking basis, if there's a security breach story, for example, CSC experts are quickly offered to a variety of outlets for comment.
Grandis says there are parameters that are followed when riffing on breaking news: They must have an expert who can address the topic; and the news source must be credible—a reputable business or trade publication.
Being ready to handle a media onslaught if your newsjacking strategy works is critical, says Armon. So that means making sure that you are nimble enough and have the resources to jump into media relations in real time. Not being prepared for what's to come could put the focus on your organization's ineptitude instead of the story.
That's why Armon is an advocate for communicators having the skills and the freedom to act quickly and decisively. Amen.
CONTACT:
David Meerman Scott, david@freshspot.com; Dave Armon, darmon@criticalmention.com; Chris Grandis. cgrandis@csc.com.

Follow Scott Van Camp: @svancamp01