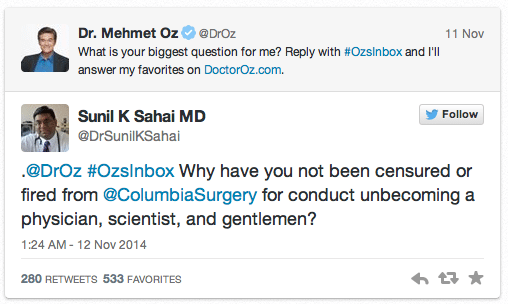 While it's virtually impossible to stop Internet trolls from taking shots at your brand, a series of recent Twitter fails should be cause for concern among communicators. In the last two weeks alone there have been a handful of Twitter chats that backfired miserably on both brands and celebrities. They include:
• Dave & Buster's. To promote its Taco Tuesday, the brand on November 18 tweeted, "I hate tacos, said no Juan ever." The restaurant chain got slammed as being racist. The offending tweet was soon deleted and the company tweeted an apology.
• The New England Patriots. The team asked fans to share their messages to help celebrate reaching a million followers on Twitter. One message, with a racial slur, ended up being shared on the team's account. The slur was deleted an hour later and the Patriots apologized.
• Dr. Mehmet Oz. The daytime TV show host has been criticized by the healthcare community for promoting questionable medical treatments He recently posted a tweet: "What is your biggest question for me?" The result was several tweets that barbecued Dr. Oz (see front page.)
You would think brands and organizations would have learned a PR lesson or two about how to engage audiences via Twitter—without getting burned—from the #myNYPD episode.
In April, the New York Police Department encouraged Twitter users to post photos of interactions with police officers along with the hashtag #myNYPD.
The result was more than 70,000 negative comments, per the Daily News, about the police force, with some accompanying pictures appearing to show police beating people up.
But the Twitter fails keep coming. If companies want to continue to use Twitter as a communications vehicle—and, let's face it, bailing on Twitter isn't an option—PR managers may need some more schooling on how to navigate the Twitterverse.
"A lot of marketers wear rose-colored glasses and believe brand's or organization's followers are just as excited about something as they are," said Morgan Johnston, manager of corporate communications and social media strategist at JetBlue.
"It's great to come up with ideas" on how to spark a conversation on Twitter, "but if you're not paying attention to your constituents on a regular basis you can't fully understand how your brand is reflective of what consumers want it to be."
He stressed that PR managers have to conduct a cost-benefit analysis of starting a Twitter chat or Twitter meme.
"Real-time marketing is a very dangerous place for brands to play and it can be a blood sport," Johnston said. "It's easy to get wrapped up in being cute or witty, but if you're putting yourself in a position that's not relevant to your brand then it becomes a spectacle."
In 2012 JetBlue rolled out "Election Protection," an online contest that played off the 2012 presidential election and the oft-heard statement, "If my candidate doesn't win, then I'm leaving the country."
Promoted via JetBlue's social channels, travelers who visited jetblueelectionprotection.com identified their political party and chose their desired destination, including Mexico and Jamaica.
JetBlue ended up giving out 1,006 round-trip tickets to people whose party lost the 2012 presidential election.
"We spent a lot of time on risk management," Johnston said, regarding the campaign. When engaging social channels, "you have to put your Internet troll hat on and follow that to a logical conclusion. It's almost like having an ombudsman approach" to your social media messaging.
It's also incumbent upon PR managers to heavily research a topic (or hashtag) before starting a Twitter conversation. In September DiGiorno got itself in hot water after tweeting, "#WhyIStayed You had pizza." But the company failed to realize that the "#WhyIStayed" hashtag was trending on Twitter and used by those sharing their stories about domestic violence.
"You can't avoid hashtags altogether but have to create one that you are sure can't be misconstrued," said Matt Haynes, VP of social and digital strategies at Waggener Edstrom.
He added that prior to starting a Twitter engagement PR managers must meet with their counterparts in customer service and product development, plus vet any legacy issues for the brand.
"You have to be aware of the problems and know that criticism will be forthcoming," he said. "You need a sense of what you may need to respond to."
3 Ways to Protect Your Brand from Twitter Trolls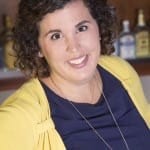 Brands can lose their credibility in a matter of seconds and it's difficult—if not impossible—to keep companies safe from the Internet trolls. What we can do is understand our brand's skeletons and how to maintain integrity when the online mob finds us.
• Uncover your brand's negative news. We are stewards of our brand and, as such, we are often aware of and sharing positive experiences. We should instead be mining negative views, whether perceived or true. The negative brand experiences are the ones that can slap us in the face and turn into a viral brand-bashing incident. While we can't stop the public from speaking out, we can be aware of all brand perceptions so we aren't caught off guard when the Twitter mob comes blazing. An added benefit of understanding negative brand perception is it opens our eyes to that audience, and how it may react to even the most unassuming tweet.
• Set alerts. This will give you a good indication if a topic related to your brand is trending. There are two ways to monitor for mentions: topic and volume.
1) Topic: If you know ahead of time that there might be negative news, be sure to alert your social media manager. Likewise, ask your social media manager to alert you if an overly negative mention appears. You then need to monitor its activity—is it getting replies and retweets?—and deploy your brand's crisis communications plan.
2) Volume: Ask your social media manager to report on Twitter volume. If your brand receives 50 to 60 mentions daily and gets 80 within one hour, you need to immediately dive in and see what the extra mentions are about.
• Build a long-term strategy. Your brand's tweets should be tied to business goals and measured against them. While Twitter is a real-time network, keeping your goals in mind will keep your brand on task and ensure messaging is tied to a long-term strategy and not knee-jerk reactions. Before you post, you need to consider your advocates and enemies. And when in doubt, don't publish.
It's no longer enough to wonder what you will do if a company matter goes viral. You must protect your brand by preparing and rehearsing for when it will happen. Buckle up.
This sidebar was written by Lisa Denten, a digital content specialist at Wirtz Beverage Group. She can be reached at lisa.denten@gmail.com. Follow her on Twitter, @lisaml15.
CONTACT:
Matt Haynes, mhaynes@waggeneredstrom.com; Morgan Johnston, morgan.johnston@jetblue.com.
This article originally appeared in the November 24, 2014 issue of PR News. Read more subscriber-only content by becoming a PR News subscriber today.