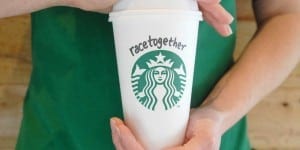 Starbucks' Brouhaha. Starbucks' CEO Howard Schultz has decided to double down on the company's "Race Together" campaign, apparently. At a shareholders' meeting last week, Schultz said: "Our intent is to try to elevate the national conversation. Because we're willing to jump into the deep end of the pool... I think others will follow us."
That choice of words may not help Starbucks contain the damage stemming from its "Race Together" campaign, which is designed to get the country talking about race relations. Some baristas are writing "Race Together" on customers' cups to stimulate conversation. The campaign has received withering criticism and Starbucks was blasted for what some described as a cynical ploy to sell coffee. Overkill? Starbucks' share price has reached record highs.
Takeaways for communicators are rife. Perhaps the biggest lesson is that if your brand or organization wants to tackle a hot-button issue, go for it, but expect a backlash (it's just a matter of degree) and leave yourself enough time to brace for unintended consequences and some very unhappy people. Another lesson: It's a slippery slope when brands try to recruit (or shame) consumers into talking about a painful subject in a public setting.
---
What's Old is New (Again). Mainstream media sites are the most common type of content shared by CMOs (50 percent), according to a new survey by Leadtail. Social Insights: CMO Edition, took the pulse of 1,000-plus CMOs and marketing executives and brands and agencies in the U.S. and Canada, both B2C and B2B.
Key highlights for communicators: Cross posting of LinkedIn content to Twitter is up 200 percent, since 2013, and marketing executives are beefing up their tech chops, including consuming more content traditionally targeted to IT readers.
---
IBM-Twitter Meld. It's a wedding tailored for the digital age: IBM and Twitter. Announced late in 2014, the partnership rolled out its first products last week, developer tools and cloud-based data analysis services that mine Twitter data (hat tip to The New York Times).
IBM has been testing some of the tools with 100 companies, which revealed surprising discoveries, per Business Insider. For example, bad weather can make people want to ditch their telecom service and loyal customers of a shop are more likely than occasional customers to stop shopping there due to changes in sales staff.
The partnership could prove a new plateau for companies that still are trying to figure out how to monetize Twitter. Big Blue's goal is to have 10,000 IBM employees with Twitter data-handling skills.
---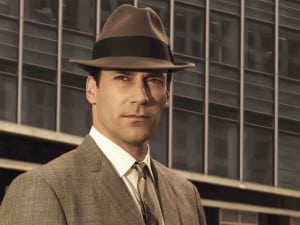 'Mad Men' Dining. Don Draper probably could sell snow to Eskimos, so plugging New York City's finest restaurants should be a cakewalk. Nearly three-dozen top Big Apple eateries are participating in "Mad Men" Dining Week, which kicks off today (March 23). The restaurants will offer either a two-course prix-fixe menu or two 1960's-inspired cocktails. It's good PR for the advertising-themed series as it kicks off its final episodes next month.
---
People Moves. MWW tapped Bob Knott as senior managing director for market leadership and issues management. Knott previously led the corporate communications practice in the Americas for three years at FTI Consulting … CNBC veteran Jeffrey Pohlman has joined FleishmanHillard's New York office as a senior VP in the reputation management practice. During his 13 years at CNBC, Pohlman's investigative unit produced the company's first digital documentaries and also won a 2015 Walter Cronkite Award for Excellence in Television Political Journalism… G&S Business Communications promoted Mike Samec to VP, digital strategy, from his previous position as director… Chris Hassall, former global external relations officer at P&G, joined APCO Worldwide as a member of the agency's International Advisory Council (IAC). As P&G's Global External Relations Officer, Hassall led a 1,200-person function with global responsibility for media and public relations, among other areas… Horn Group Inc. has promoted Debra Raine to partner. In her new role, Raine will continue to lead the agency's west coast business and plans to expand its international operations… Hill+Knowlton tapped Ellen Moran, former White House communications director for President Obama, as VP and GM of the agency's Washington, D.C., office.
This article originally appeared in the March 23, 2015 issue of PR News. Read more subscriber-only content by becoming a PR News subscriber today.