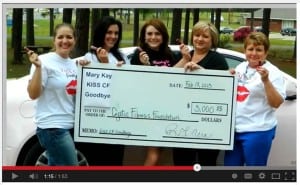 When online video programming began to creep into communications a few years ago, the typical response among brands and organizations was to produce three-to-five minute videos promoting their products, services or senior executives. But as video has mushroomed, PR executives have started to expand their perspective for getting their messages out via online video. The days of shooting video at an event with a flip cam and slapping the wobbly result onto your website are over. Brands are also starting to reevaluate the budgeting for online video.
Rather than spend $70,000 or $80,000 and outsource an entire production to a vendor, PR agencies "are more comfortable with a run-and-gun and scripted video," said Jeremy Rosenberg, head of digital media at Allison+Partners, referring to the trend in PR to shoot videos that are in the two-minute range and keep the production in-house. Companies are "able to capture more meaningful content faster and get it out to their audiences faster."
Take the collection of short videos that Allison+Partners produced with May Kay Inc. celebrating the cosmetic company's 50th anniversary and its various charitable efforts.
Allison+Partners developed and produced the videos by combining scripted and unscripted segments, which were quickly edited and distributed through online channels and supported through the PR strategy, according to Rosenberg.
However, whether it's a two-minute video or short-form documentary, the onus is on communicators and senior PR executives to develop video production capabilities, such as becoming well versed in Final Cut, a video editing software. Online video may be subordinate to online text right now, but that model may well flip in the years ahead.
SHARPER ANGLE
If the recent scramble among some of the major media outlets is any indication, online video may soon be a primary marketing vehicle for getting messages out via digital media.
For example, in late March Walt Disney Co. shelled out $500 million for five-year old Maker Studios, which is considered among the top YouTube networks. Soon after that deal was announced, The Wall Street Journal reported that Yahoo was in preliminary talks to acquire News Distribution Network (NDN), a video syndication service that supplies newspapers and online publishers with video clips on a bevy of topics, for upwards of $300 million.
What's more, CNN last week rolled out "CNN Digital Studios," featuring 15-second videos catering to social sharing and longer original webisodes.
"We are in the midst of a major shift from the old days of striving to make a memorable impression, to a new era where we will strive to fulfill a viewer's quest for information in a visually engaging manner," said Tim Bahr, CEO of NextWorks, a visual content marketing company that's produced online videos for Intel and P&G, among other brands.
DOING IT RIGHT
So, for PR pros, what has to be done to make sure video content connects with stakeholders? To enhance the production, distribution and measurement of your online video, Bahr said, consider breaking your story into shorter videos. For example, create three videos: an overview video, an expert interview video and a user testimonial video. "Present the videos with other content (images, documents, links) on sharable, interactive platforms that allow you to take viewers on a journey," Bahr added.
And while it may be an occupational hazard to get seduced by online video, you have to be careful that the video programming is wedded to the strategic messaging and specifically caters to your audience.
According to a survey from the e-tailing group, as cited by eMarketer, 85% of consumers would watch online videos focusing on products they want to learn more about for at least a minute.
"You definitely need to make sure your messaging is not being lost through the content," said Rob Jones, VP of Edelman Digital West. "But things that look less like ads and more like something people seek out to watch are going to get passed along much more."
FORM + FUNCTION
To enhance the quality online video programming, PR pros have to do a better job of staying within the medium.
"Think about the best way to tell a story in a two-and-a-half minute video structure, rather than recording a whole bunch of video and cramming the highlights into two-and-a half minutes," said Sam Ford, director of audience engagement at Peppercomm, adding that the agency has seen a significant increase in the volume of online video produced.
He added: "PR and marketing executives sometimes suffer from a 'campaign mentality.' It's the same thing with online video, but they suffer from a 'project mentality' rather than considering how to put all the pieces of the story together."
Give Online Video Your Best Shot
Thanks to platforms like Vine, YouTube and Instagram, video has become a powerful resource for communicating messages and engaging audiences via content that is easy to digest and easy to share. Most of the intricacies related to shooting video have been either eliminated or demystified, so the good news is that production doesn't have to break the bank. At a baseline level, all you need is a smartphone and a smart PR plan. Before using video in your campaign, go through the following checklist to make sure it's the right channel for your communications program.
▶ Ask yourself why you are using video. Is it the best delivery mechanism for your message? Is it a genuine extension of your brand's personality, or will the use of video seem gratuitous?
▶ Make sure you have a sophisticated understanding of your target audience's video consumption preferences. Do they prefer quick bites of information or will they stay with a video for longer than one minute? What are their preferred channels for consuming video? Do they go to Facebook or YouTube or Vine? Will they watch a live-streamed event? Are they prone to sharing content? This knowledge will inform your video development and dissemination strategy.
▶ Make sure what you want to say is more than a reiteration of your press release. Video is another vehicle for showcasing key pillars of your campaign and offering viewers a reason to believe inyour product or organization. Use it to supplement your message, not regurgitate it.
▶ Action. Just about every smartphone on the market today can take crisp, clear, HD videos. Just make sure to balance the basics: audio, visual and location. However, if you are shooting anything longer than a three to four minute video with multiple cuts, it's best to hire a professional videographer who can make sure transitions are smooth and effective.
This article was written by Adam Snyder, director of digital and social strategy at Burson-Marsteller. He can be reached at adam.snyder@bm.com.
CONTACT:
Ted Bahr, tbahr@nextworks.com; Sam Ford, sford@peppercomm.com; Rob Jones, rob.jones@edelman.com; Jeremy Rosenberg, jeremy@allisonpr.com.
---
This article originally appeared in the April 14, 2014 issue of PR News. Read more subscriber-only content by becoming a PR News subscriber today.