Those selling products and services to the PR community are on the front lines of what customers need—and don't need. A book of press clippings? Not on the "needs" list for many PR pros as much as Twitter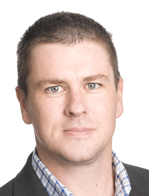 monitoring, for example. Kye Strance, who heads product management for software company Vocus, has witnessed a sea change in the PR trade since he started with the company 12 years ago. And while it's no surprise that even the definition of "media" has changed in the past decade (and arguably the past few years), it is always encouraging to hear that more and more communicators understand the need to measure their PR efforts and that there's more value placed on quality of media impressions over quantity. PR News Group Publisher Diane Schwartz recently caught up with Kye Strance to get a pulse on the product management side of the industry.
PRN: As director of product management, what are Vocus customers looking for in new services or features?
Kye: Predominately, people are looking for how to manage their media contacts, identify new contacts, and reach out to them through distribution. News monitoring, especially social media, is the number-one priority. While everyone knows measurement and monitoring are important, they're not sure how to do it. They're monitoring Twitter and other media out there, but trying to understand what to do with that data is something else.
PRN: The definition of "media" has changed so dramatically in the past few years to include bloggers, tweeters and others: Do you think this change is a good thing?
Kye: Yes, it's actually empowering PR to do more and to be able to contribute to the bottom line.
PRN: Given the tight economy, some prospective customers might try to take the DIY approach – create their own databases internally. How do you sell against that mindset?
Kye: Our research team is updating the (Vocus) media database on a nightly basis and a lot of PR People just don't have the time to do that. Plus a global database of 500,000 contacts allows customers to look at other media they might not have thought of reaching out to.
PRN: What are some of the changes you've seen in the PR services industry in the past year?

Kye: Five years ago when I was working with customers, largely the measurement of news prominence and impact and quality of coverage were very new concepts. PR people were finding ways to get into the boardroom but they didn't have the measurement/analysis that Marketing and Advertising had. So there's a strong emphasis on the measurement/analysis side – to take the mystery behind it and show that what they're doing is having an impact on the bottom line. Our customers are looking at quality of coverage over quantity. People are starting to get it.
Note: Kye will be moderating a panel at PR News' June 3 PR Measurement Conference on "Proving PR's Value"
About Kye:
Native of: Annapolis, MD
Alma Mater: George Mason University (degree in Economics)
Hobbies: private pilot (formation flying); rowing
Favorite Magazine: Outside
Time spent on business travel: 25% of the time
Best career advice: "Short and succinct."