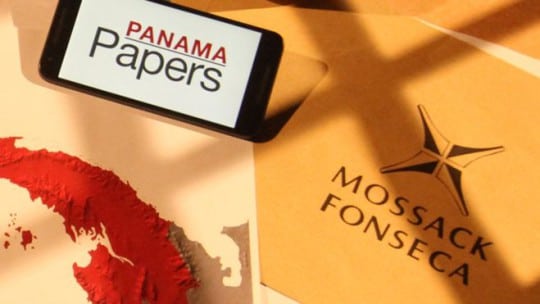 Just as you're getting set to prepare your taxes, a news story from Panama should give you pause. Over the weekend word broke that some 11 million documents were leaked from a Panamanian law firm, Mossack Fonseca, exposing a slew of shell companies and other devices that its well-heeled clients allegedly used to avoid taxes, hide and launder money.
Among those allegedly named in the huge trove of documents include world leaders like Russia's Vladimir Putin, as well as Putin associates, Argentina's president Mauricio Macri, an in-law of China's president and Iceland's Prime Minister, who faced calls today for his resignation due to allegations contained in the papers. Argentine soccer great Lionel Messi and the late father of Britain's Prime Minister David Cameron also are among those whose names have surfaced.
It is unknown how the documents were leaked, only that they were sent to German newspaper Suddeutsche Zeitung, which passed them to several journalism organizations, including the International Consortium of Investigative Journalists. As a result, 107 media organizations in 76 countries are combing the documents.
With 11 million documents under scrutiny, it seems a safe bet that more shoes will drop, perhaps implicating brands doing business in Russia, Iceland or Argentina. Brands reportedly mentioned in the papers include large banks such as HSBC Holdings PLC, UBS Group AG and Credit Suisse AG. All three have issued statements denying their actions were anything but legal. The question for brand communicators is what to do now?
For Andy Gilman, president/CEO of CommCore Consulting Group, communicators should head to the legal department for a conversation. "Don't be paranoid and don't overreact … be prudent" and inquire if the brand might have exposure, he says. "Read all the coverage and write your list of questions" related to possible exposure. "Make a few phone calls around the organization or walk the halls. This is the type of subject where email is not the best communications tool…do not leave a paper trail."
Should a brand find itself linked to allegations, "Write up a set of FAQs and have them ready. If the facts go against you, assemble the team quickly and figure out a response." While "most of the Western world expects a level of corruption from some government officials, when that corruption extends to a trusted brand, consumers can be fickle," Gilman says.
Gene Grabowski, a partner at kglobal, advises anyone from celebrities and politicians to executives and brands concerned about being named in documents to let the law firm take the rap initially. "Deflect the focus by immediately referring inquiries from journalists and others to the media statement issued by the Mossack Fonseca law firm. It's a wise move at this point to let the law firm take as much of the heat as possible. New statements from other parties only risk drawing more attention to them." The firm has denied that it's done anything wrong, adding it's not been charged with a crime in its 40 years of doing business.
"In the longer term," Grabowski says, "if there is potential culpability for wrongdoing or unethical behavior, individuals and organizations should be preparing statements acknowledging oversights or lapses in judgment and outlining steps to quickly rectify the situation. Those steps might include firing responsible individuals or making restitution for tax avoidance."
Follow Seth Arenstein: @skarenstein