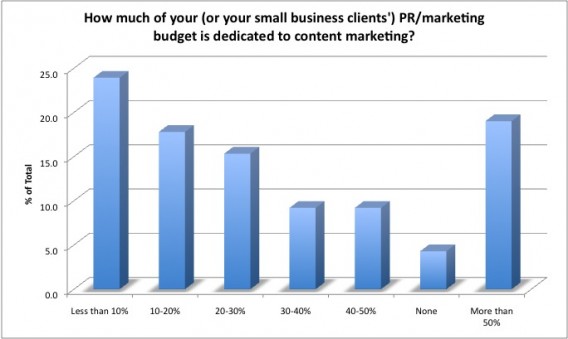 At Content Marketing World, speaker after speaker hammered home the following content marketing edicts: create utility through content, create it frequently and distribute it widely.
Mitch Joel, author of Six Pixels of Separation and president of the digital marketing and communications agency Twist Image, emphasized the importance of utility in particular. Joel asked, how do you create real content that isn't just slanted toward making your brand look good and actually create content that people will find useful and will share?
To track the latest content marketing trends, PR News and Small Biz PR Report partner PR Newswire recently launched a three-question survey asking PR pros to share their content marketing tactics.
Content marketing reflects a variety of tactics—and shouldn't be just re-purposing press releases into blog posts. Infographics, mobile apps and podcasts—though arguably the hardest forms of content to create—are underused methods that can provide such utility, according to the data.
While tried and true content distribution methods are rightfully the most popular, according to the survey, opportunities do exist for small business marcom pros to distribute their content through traditional media pitches and sharing on LinkedIn (especially considering LinkedIn's recent changes to highlight brands as publishers).
When asked how much of their or their small business clients' PR/marketing budget is dedicated to content marketing, the responses were widely divergent (see chart). While nearly a quarter of respondents (24%) said that less than 10% of their budget is dedicated to content marketing, nearly one fifth (19% ) said that more than 50% of their budget is dedicated to it. Respondents were generally either sold on content marketing, or are non-believers.
When asked what types of content their organization produces, the most popular types were articles (16%), blog posts (15%), e-newsletters (15%) followed by videos (12%) and case studies (9%). The least popular forms were infographics (6%), podcasts (3%) and mobile apps (3%).
In terms of their distribution of content, 20% of respondents said they post content on a branded Web site or blog, while roughly 19% said they distribute content via e-mail. Roughly 17% of respondents said they post content on on Facebook and in tweets, respectively. Finally, 14% said they still use traditional media relations pitches for their content marketing, and 11% said they share content on LinkedIn.
It will be interesting to see, as advanced content creation becomes more widespread (think of the smartphone's impact on photo /video creation and editing) , how small businesses will embrace content marketing—strategically and fiscally—in the near future.
Follow Bill Miltenberg: @bmiltenberg