Woe is the press release. As an outreach tool the press release sits in close proximation to Google+ as a platform suffering from "malaise," as Jimmy Carter may have put it. Let's face it, the press release may get the least press of any PR tactic.
But why? This tried-and-true PR vehicle has been overshadowed by digital/social engagement, as communicators now look to reach the press and other stakeholders where many of them reside: blogs, Facebook and Twitter.
Yet unlike Google+, there's much curiosity among PR pros on how press releases can be used effectively in the 21st century. A January 13 PR News webinar on press releases demonstrated this curiosity, drawing one of the biggest online crowds yet for a PR News "how-to" program.
No, the press release isn't dead—far from it. It just needs to be looked at in both traditional and "digital 2.0" senses. The advantages of using press releases hasn't changed much from their inception, says Andrew Hindes, president of L.A.-based copywriting and writing training company The In-House Writer. "Press releases allow you to distribute news about your business, position your story and tell it in your own words," he says.
"In your own words" is important these days, especially as the public is eager to tell their own stories about your brand—some less than flattering—via digital and social media.
RELEASES THAT POP
So how do you go about creating a press release that pops?
It all begins with the written word. If you're writing a press release—one that targets the media more than one targeting potential customers, investors and other stakeholders—it's all about giving journalists everything they need quickly, in an easy-to-understand tone, Hindes says.
The trick is to focus less on what message you're trying to deliver and more on what is interesting to the reporter, Hindes says. So make your releases clear, concise and compelling. Here are tips from Hindes on how to achieve this:
• Recognize marketing copy vs. PR copy. "Sometimes I see press releases that read like ads," Hindes says.
• Make your release a news story. Write an attention-grabbing lead, just like a straightforward news article. "In some publications it may run verbatim," Hindes says.
• Accentuate the product/service benefits, as opposed to the features. What will the reporter want to impart to her audience? More than likely, it's how readers will benefit from what the reporter is writing about.
SHORT & SWEET
What grabs a busy member of the media is what's up front: the headline and the lead. Headlines should give the reader a strong, incisive impression of your story's implications, says Don Bates, instructor in writing at New York University.
Headlines should identify the underlying subject and focus on the true meaning for readers. "Don't let them guess—be concrete and don't back into the story," he says.
Example: Not "XYZ launches $50-million college scholarship program as part of its 2013 social responsibility goals." Instead, "XYZ allots $50 million for college scholarships." Get to the other facts in the body of the release.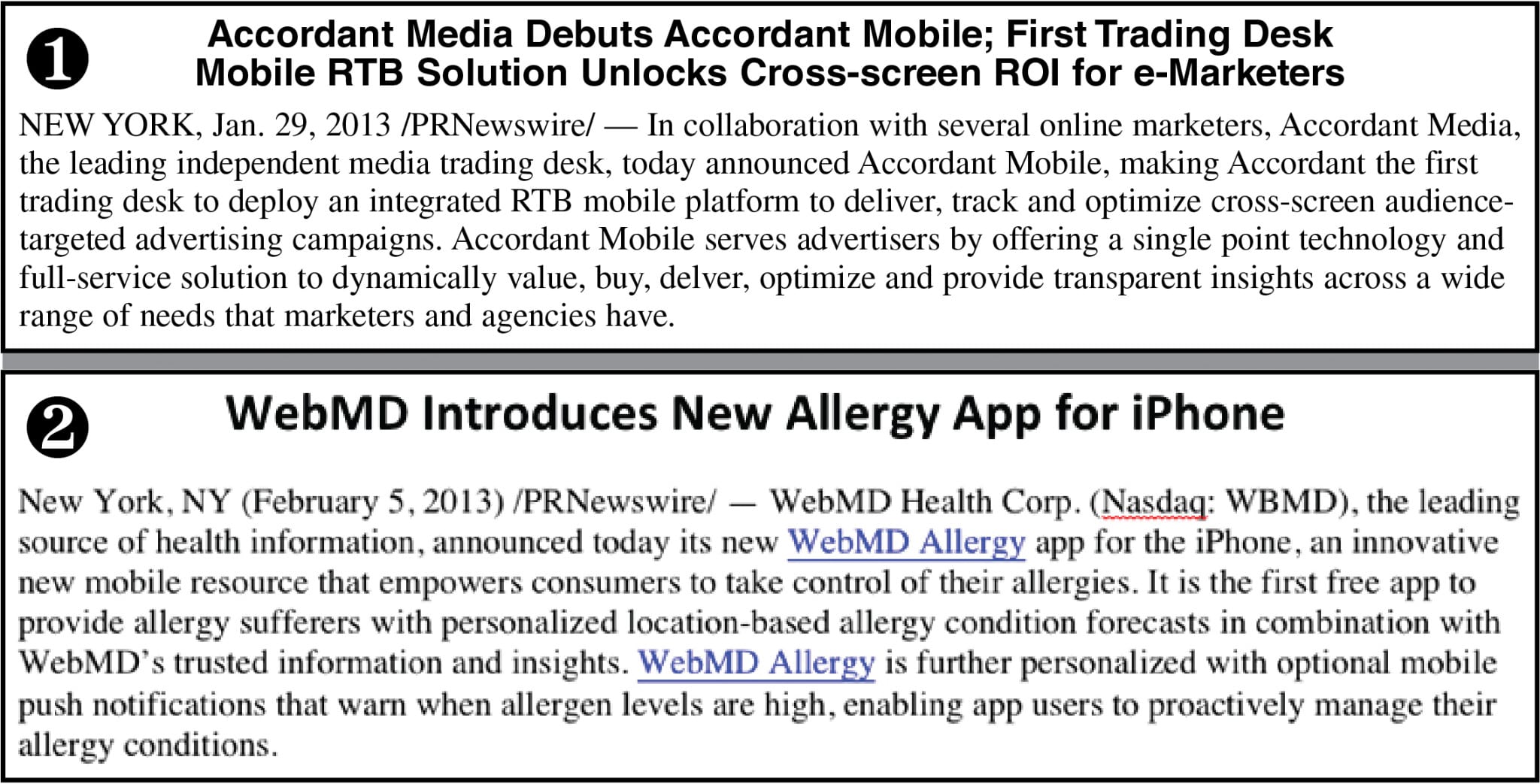 Lead analysis: Accordant Media's lead (1) skews toward the complex, while WebMD better describes the benefits of its new app (2). Press release leads should be attention-grabbing and accentuate what the targeted journalist's readers would want to know.
ACTIVE LEADS
If the headline tells the gist of the story in just a few words, the lead paragraph fills in the important details and, most important, gives readers something they'll want to act on, Bates says. "A lead is like a promise, so deliver on that promise."
The typical lead is 25-30 words (rarely more than 40) and, like the headline, gets to the point quickly. "Consider your audience's knowledge," Bates says. "Don't worry about providing context unless it's essential." Other lead tips from Bates:
• One idea, one angle, don't complicate
• Don't repeat the headline
• Provide essential facts, a "snapshot" from which to elaborate
• Engage, provoke and assert
• Use strong verbs, nouns; cut adjectives and adverbs
RELEASE 2.0
While there are the tried and true writing tips associated with releases, they have gone through some changes in the digital age. At SAP, Evan Welsh, director of global media relations, uses SEO tactics to increase the searchability of the company's releases. In some 230 press releases and newsbytes (a shorter version of a release) per year, Welsh and his team ensures that each is optimized for best search results. Some SEO tips from Welsh:
• Keywords in TITLE tag
• Keywords in H1, H2 headings tags
• Use keywords throughout the release, but don't overdo it
• Use hyperlinks
• Use the "keyword" tool in Google AdWords to check popularity of phrases/keywords, and for alternatives that have higher numbers
Welsh also uses Twitter to gain more visibility for his press releases. He tweets each release, has other people within SAP tweet the release (providing sample tweets to various departments within the company) and tweets about the coverage earned by the release.
Welsh says although the number of press releases has decreased at SAP, there is still a strong need for them. "We're just looking for new takes on the release for increased engagement and more media hits," he says.
New takes, combined with old-school writing chops.

CONTACT:
Andrew Hindes,
@inhousewriter; Don Bates, @batesdon1; Evan Welsh, @evwelsh.