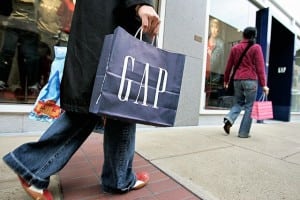 The battle in Washington regarding raising the minimum wage is just getting started. But The Gap has decided to take a stand on the issue and, in the process, sent a strong message about its brand to both the public and its employees.
The clothing company announced late last week that it is raising the minimum wage for 65,0000 U.S employees. Gap CEO Glenn Murphy said that the clothing retailer will start paying its U.S. workers at least $9 an hour in June of this year, and $10 an hour in June 2015, according to reports.
Here's an excerpt from Murphy's statement:
"To us, this is not a political issue. Our decision to invest in frontline employees will directly support our business, and is one that we expect to deliver a return many times over.
The people in our company who engage directly with our customers carry an incredible responsibility. Our success is a result of their hard work, love of fashion and commitment. We hope this decision provides them with some additional support as they grow their careers with Gap Inc."
President Obama, who proposed hiking the federal minimum wage to $9, from $7.25, praised the move.
"In my State of the Union address, I asked more businesses to do what they can to raise their employees' wages," the President said. "Today, I applaud Gap Inc. for announcing that they intend to raise wages for their employees beginning this year. But only action from Congress can make a difference nationwide."
House Speaker John Boehner earlier this month shot down the proposal.
The Congressional Budget Office, a nonpartisan arm of Congress that assesses the impact of proposed legislation, issued a release saying that raising the minimum wage would lift 900,000 people out of poverty but could cost 500,000 jobs, as employers cut back staff due to the higher costs.
As with many debates in Washington, this was one could fizzle out without any decisive action.
But The Gap, which operates Gap, Old Navy, Banana Republic and Athleta brands, isn't ambling on the sideline. The retailer has decided to harness the debate about the minimum wage to communicate a larger message to both existing and prospective employees, and draw a sharp distinction to its competitors.
Lynn Albright, a VP at Old Navy, told CNN that higher wages would help attract "best in class talent" and lower turnover costs.
"We're coming from place where we can afford to make this investment," she said. She added that the company has been discussing raising wages for some time and the decision had nothing to do with the nationwide minimum wage debate.
You can take the last part of the statement with a grain of salt, but the point is made.
The Gap wants to get out in front of the minimum wage issue and is eager to tell people about it. It may be an inspiration for other companies to chime into the debate, one way or the other.
Follow Matthew Schwartz on Twitter: @mpsjourno1