Consumer packaged goods (CPG) companies show a penchant for running videos on their social channels—and reel in eyeballs as a result.
Whether it's toothpaste or paper towels, CPG companies know how to take fairly mundane products and wrap them in a compelling narrative. But they also have the benefit of pretty pictures, showing photos of some of their consumers' favorite sweets and making them come to life in marketing materials.
Either way, communicators can learn from the CPG industry when it comes to how to attract an audience. That goes for their success on social platforms, as well.
CPG companies' social media engagement grew by an average 16% in 2014, compared with 2013, according to an exclusive study conducted for PR News by social media analytics companies by Shareablee. CPGs' recipe for engaging consumers includes a healthy dose of online video.
"Social videos had a strong showing in 2014, spiking growth on video posts for some of the CPG category's most social properties— L'Oréal's NYX Cosmetics and General Mills ' Betty Crocker—by 887% and 292%, respectively, said Tania Yuki, CEO of Shareablee.
CPG companies also are quick to feature inspirational and "how-to" content on their social channels.
"Celebrating fans' beautiful moments drew the most actions for Procter & Gamble's Olay [and] design inspirations accompanied with links to tutorials ranked as L'Oréal's Essie Nail Polish's top posts in 2014," Yuki said.
She added: "For General Mills' Pillsbury and Betty Crocker, photos of delicious baked goods with links to recipes consistently captured the most actions across the platforms."
In addition, announcements about limited editions, insider exclusives and consumer surveys were some of the strategies that had a positive influence on engagement for L'Oréal, she said.
The takeway for PR pros is to find "owned" content that lends itself to visual storytelling. Slice and dice the content and package it with social channels using online photos, video and other forms of digital communication.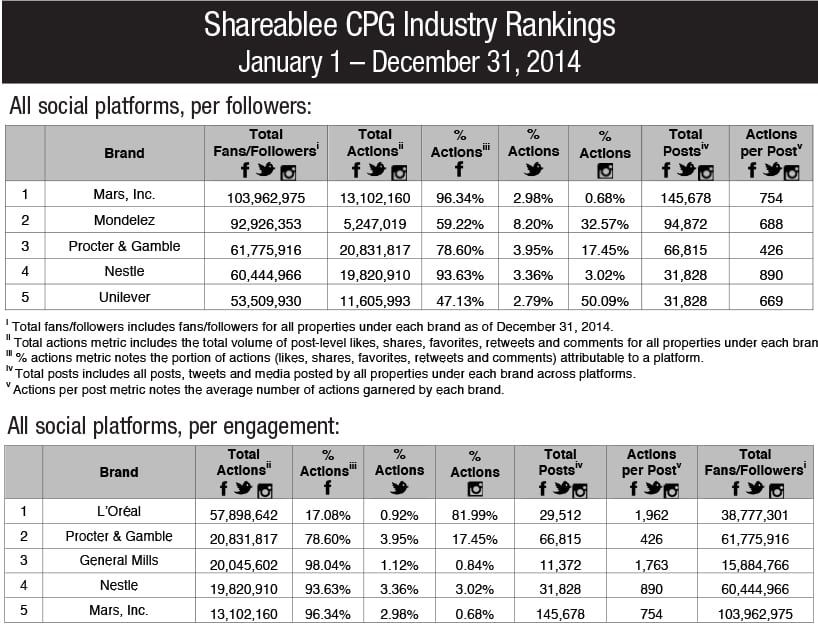 This article originally appeared in the January 26, 2015 issue of PR News. Read more subscriber-only content by becoming a PR News subscriber today.