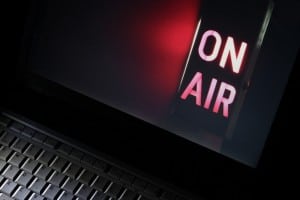 Maybe it's time for communicators to find their inner performer. YouTube is on the cusp of acquiring Twitch, the largest video game live-streaming network, for $1 billion, according to reports. The significance of the deal for communicators is that it indicates the growing power of streaming video as a communication tool.
Twitch, originally a subsidiary of Justin.tv, spun off in 2011 to form its own gaming network. It now has an average of 45 million unique monthly viewers, with a million gamers broadcasting their own content, according to Mashable.
Those are the kind of numbers that most PR pros can only dream about. But the bigger takeaway is why it's important to consider live streaming, indeed, live anything, as a part of your overall media relations strategy.
For many brands, live video long ago ceased being a "nice-to-have" and is now firmly ensconced in the "must-have" camp. Streaming live video of one of your conferences and/or events or piping live video of a shareholder meeting are just two examples of  how to boost your live video presence.
For more inspiration, here are five reasons why every brand should consider having live video as part of their PR arsenal, compliments of George F. Snell III, senior VP of digital at Weber Shandwick.
1. Live events are electrifying. That's why people go to sporting events and concerts in person. There's an energy to live that can't be replicated on tape.
2. Social and digital media were built for live. Live blogging. Twitter chats. Google+ Hangouts. Social and digital channels were designed for live interactions. The natural next step is to infuse those channels with live video broadcasting, which can easily be embedded into Facebook applications, websites and a tweet.
3. Live broadcasts are infused with content. Live broadcasts are not just live streaming. They integrate your audience as well as an infusion of multimedia content such as other video, images and graphics, reports and surveys and even original music.
4. Live broadcasts encourage engagement. Especially live broadcasts that are actively broadcast on social and digital channels. The engagement mechanisms are built right in. With a click of a button people can suddenly find themselves in the middle of a story—participating, interacting, sharing and adding to the content.
5. Live events are unscripted. Work without a net. Nobody can fully predict what will happen at a live event. That's the magic of it. Brands shouldn't be afraid of the sizzle of live broadcasts but should embrace it as a powerful way to excite, connect with and energize their fans and followers.
What are some of the other reasons that live video makes for a solid PR vehicle?
To learn more about trends in media relations order a copy of PR News' Media Relations Guidebook, Vol. 2.
Follow George F. Snell III on Twitter: @hightalk
Follow Matthew Schwartz on Twitter:  @mpsjourno1