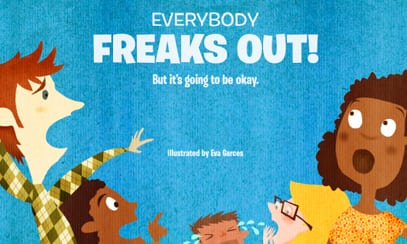 It's no secret that college tuition costs have been rising for decades. Still, according to a recent report from Sallie Mae, only 50 percent of parents with children under 18 years old were saving for college in 2013. In that same report, when parents were asked what best described how they felt about saving for college, the most popular response was "overwhelmed."
It's that sentiment that global investment management firm T. Rowe Price is aiming to assuage through it's most recent branding campaign—"Everybody Freaks Out! But It's Going to Be Okay," a book (available digitally here) intended for parents but resembling something they would read to their children. The book, whose title is an obvious play on another childhood classic, is aimed at expecting parents and those with children under the age of 5, with illustrations and rhyming text promoting saving for college, specifically the 529 college savings plan.
From a branding perspective, the book is an interesting way to tackle a topic new parents are not (or do not want to be) thinking about yet. And the company didn't overdo the marketing. The story's characters visit a T. Rowe Price microsite, CollegeSavingsChillout.com, but other than that the company's name is found only on the back cover.
With this unique and light-hearted entry into a difficult and scary conversation, T. Rowe Price is positioning itself as a brand that understands its audience and wants to take the sting out of the discussion of college-cost projections and how to meet them.
The book is  available on Amazon.com for $5, and T. Rowe Price says it will donate all proceeds from sales to Junior Achievement, a financial literacy non profit.
Follow Brian Greene: @bwilliamgreene