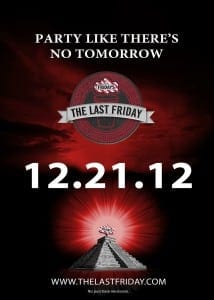 It was the best of days; it was the end of days. Or so the end of the Mayan calendar warned for Friday, Dec. 21, 2012. So exactly how does a brand prepare for the "Mayan Apocalypse"? For T.G.I. Friday's, the answer was simple: Let's party.
Friday's and Peppercomm prophesized in the third quarter of 2012 that the Mayan Apocalypse was a storyline the media could not resist. They thought Fridays needed to be front and center, while staying on-brand. With that in mind, The Last Friday campaign was designed with the following goals:
To draw new customers, reengage lapsed ones and reward regulars during the holiday season.
Be a driver of the media conversation surrounding the Last Friday of the Mayan calendar.
Raise awareness of T.G.I. Friday's in unexpected places and engage Friday's fans and new customers in a memorable way.
Create a shift in the mindset among consumers that Friday's is more than your typical casual dining restaurant.
The Last Friday campaign would also offer the opportunity to help reposition the brand as an attractive bar venue. Friday's' popularity originated with young adults, thanks to the restaurant's popular bar scene, but the brand seemed to age alongside its original target audience and became more family focused.
TAKING IT SERIOUSLY
A core team of six communicators from Peppercomm began to track the discourse on the Mayan calendar. In last year's third quarter mentions among various media channels averaged 15,000-20,000 per day.
Rebecca Maas, management supervisor at Peppercomm, says that while the campaign was prepared for the possibility of holiday-related news trumping the campaign, "It was imperative that we appropriately message around the end-of-world sensitivities while still working toward our goal of securing positive media coverage."
Quinton Crenshaw, director of communications for T.G.I. Friday's, says that the supposed end of the world did indeed cause panic for some people. "To do this, we constantly reinforced the message that we were simply using the end of the world as an excuse to celebrate with our guests."
Peppercomm's plan called for full integration across communication channels, requiring digital, events, creative and media teams, within a six-week period, fanned across the nation. Planning required working with local markets to secure permits, manage logistics and support with materials and promotions.
A BIG EXCUSE TO PARTY
Peppercomm created 14 signature events, which served as the core of the campaign to commemorate The Last Friday—Friday, December 21, 2012. Patrons could memorialize The Last Friday in true Mayan—and Friday's—fashion. Think pyramids, tropical flora, food of the gods and thirst-quenching drinks.
The pop-up events were executed under three tiers:
Tier A events: Designed to draw new patrons, these events took place at four off-site and unique locations— Hollywood & Highland in Los Angeles, Wrigley Field in Chicago, Union Station in Washington, D.C., and 11 11 Lincoln Road in Miami.
The events featured fun, custom-built production elements that ranged from replicas of Mayan pyramids to themed tabletop settings along with branded photo booths and special DJ stands.
Tier B parties: Designed to reward loyal customer bases, these parties were a replication of efforts in the Tier A markets, and held outdoors, but on the premises of T.G.I. Friday's locations in Tampa and Orlando, Fla.
Tier C parties: Designed to build out Friday's' customer base, these eight parties were held in select T.G.I. Friday's locations across the country, including Atlanta, Dallas, Denver and New Orleans. Each location featured live entertainment, food and drink specials and trivia. The events required full participation by each restaurant's respective team members, and Peppercomm staff, to fully execute.
Crenshaw says that to gain the attention of local media, a market-specific hook was more important than ever. "A physical presence in every city isn't always possible or plausible, but we're working to make sure our larger campaigns have localized elements in as many cities as possible," he says.
The campaign's specific PR tactics included:
A dedicated microsite, TheLastFriday.com: The microsite provided details of the event and an opportunity to enter the End of the World Survival Kit sweepstakes, which awarded a kit including bar supplies needed in the event of an apocalypse.
Paid, earned, and owned media strategy: Maas says the campaign's paid-media strategy included digital banner ads and mobile trucks with "Party Like There's No Tomorrow: 12/21/12" signage.
Media engagement: A Multimedia News Release, distributed on Dec. 5, featured a video of Friday's CEO Nicholas Shepherd announcing the campaign. Shepherd, while serving as a barkeep, announced that "TGI Friday's was born to celebrate the end of the week, so who better than to celebrate with for the end of the civilization?"
Survival Kits for Media: Key media were mailed kits that were designed to look like indestructible steel cases complete with "survival" tools—drink-making supplies. "Because we were assessing our social-media efforts and contest entries in the weeks leading up to the in-market events, we were able to effectively pitch traditional media and properly prepare media messaging," Maas says.
In-restaurant promotional materials: These materials included "The Last Friday" cocktail napkins, menus, street team activation, and collateral handouts. The hashtag #TheLastFriday was used both by Peppercomm team members live-tweeting the event and consumers sharing their experiences.
Crenshaw says that garnering media coverage during the holiday season was especially tricky. "Fortunately, we were able to separate Fridays from the holiday retail clutter with this campaign and allow a point of differentiation that inherently fit the brand," he says.
The biggest curveball of all, Maas says, was the Newtown shootings on Dec. 14, one week before the big event. "We had to monitor the news and make the right call for re-entering the news conversation with the brand," she adds. Despite the change in the national discourse, the campaign still compiled:
Year-over-year sales increased as high as 170% in targeted locations, particularly among the bar crowd.
222,248,674 media impressions from 60-plus placements, including CBS This Morning and The Los Angeles Times.
56 million multimedia news release online impressions and 25,000 views of the CEO's video message.
2,720,953 Twitter impressions from more than 1,000 tweets using #thelastfriday, and 1,535,423 Facebook impressions.
Though the planet survived the Mayan Apocalypse, the Friday's brand captured the national spotlight, which Crenshaw says the team will strive to repeat in the future. After all, people appreciate an excuse to party. PRN
Four Tips For Four-Horseman of-The-Apocalypse-Proof PR





Maggie O'Neill
For T.G.I. Friday's, the brand that celebrates the end of each workweek, the Mayan Apocalypse prediction was a perfect opportunity to celebrate and capture the media spotlight.
Agency partner Peppercom and Friday's relied on some tried and true PR strategies and some newer ones for gaining national attention for The Last Friday campaign. Maggie O'Neill, partner and senior director, Peppercomm, describes the four horsemen of PR tactics used:
Message across platforms: "PR is not just a press release and a pitch. When working on a campaign with this many legs, make sure that not only is your message consistent across all media channels, but that you areusing all assets to deliver the best message," O'Neill says. "Think visuals, tangible items and live engagement."
Tap into a trend: When building a large campaign, look for an upcoming holiday, trend, pop-culture event that you can leverage to your brand. "Think about the media coverage on April Fool's Day around marketing. People are looking for engagement around certain events. Better to capitalize on that than try to build a new one," O'Neill says.
Make it simple for media: Provide media the easiest access to all of the information. A multimedia news release, like Friday's did with a video testimonial from its CEO for the Last Friday Campaign, puts all assets in one place. "Or consider an infographic to deliver your message, or an engaging mailer to bring the media into the event itself," O'Neill says.
Make it social: "Media are just as much a part of the social dialogue as consumers are, so keep that in mind when spreading the word about a campaign on social platforms," O'Neill says. "It's a great opportunity to have an open dialogue and garner interest from traditional media as well."
CONTACT:
Rebecca Maas, rmaas@peppercomm.com; Maggie O'Neill, moneill@peppercomm.com; Quinton Crenshaw, @qcrenshaw.com.