Swing a cat and there's no shortage of PR mavens who insist that communicators use data and analytics to track marketing campaigns.
Yet just about half of PR and marketing professionals forego measurement dashboards to communicate PR's business value internally, according to an exclusive survey conducted by PR News. The survey, which was distributed this month, questioned 125 PR and marketing executives. When it comes to PR measurement and analytics, there remains a significant gap between rhetoric and reality, the survey found.
For example, nearly 25% of respondents said they do not have face-to-face meetings with clients to determine which outcomes from PR programs tie into organizational goals. No wonder some brands have a tough time monetizing their PR programs. Measurement can't operate in a management vacuum.
The full results of the survey will be shared during PR News' April 20 Measurement Conference, at the National Press Club in Washington, D.C. The event is sponsored by BurrellesLuce, Business Wire, CARMA, Cision, Gorkana, Netvibes and Paine Publishing.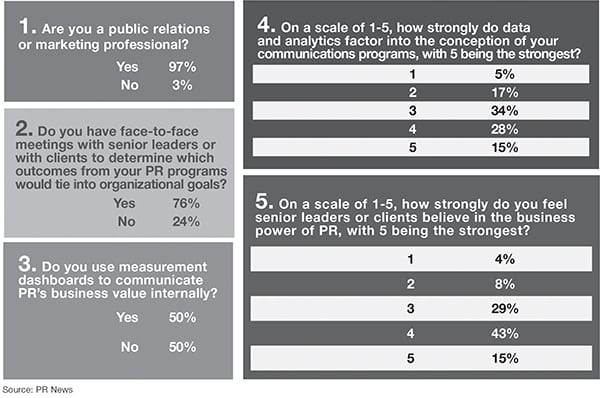 This article originally appeared in the April 20, 2015 issue of PR News. Read more subscriber-only content by becoming a PR News subscriber today.