PR managers are well aware of the growing role that online video programming is playing when marketing communications. Countless studies have shown that consumers are more apt to remember a campaign when it's tied to online video and are more likely to make a purchase when the message includes video content. At the same time, there's an apparent disconnect between the opportunities that online video affords and the engagement rates among PR professionals. The evidence? Nearly 77% of communicators said the use of online video as a messaging platform was underutilized, according to an exclusive survey conducted by PR News and PR Newswire's MutliVu division. A little less than a quarter of the respondents said it was well balanced.
"A lot of times with a new medium, companies will jump into the fray without having a plan," said Sarah Skerik, VP of strategic communications at PR Newswire. "We're talking about recalibrating your approach to communications. Developing and producing online video—and figuring out how that fits into your overall [PR] strategy—is a much more specific type of communications than a press release or a blog."
The online survey, "Video Reality Check," garnered nearly 360 responses, with a significant sample of senior PR managers from the corporate, agency and nonprofit sectors. Roughly 20 percent of the respondents said they work in the C-suite.
As with the multitude of new channels that are now available to communicators, a lack of budget was cited as the biggest challenge in producing video content (56 percent), followed by lack of resources (48%) and lack of time (42 percent).
About half of the respondents said they plan to boost budgeting next year for video content while $$ percent of the respondents said their video spending will stay flat.
For PR managers who appreciate the value of online video but have trouble landing adequate budget for it, half the battle may be getting starting incrementally.
"You have to approach it experimentally with less expensive videos," Skerik said. "It can be more casual, not high-cost, to shoot some video, do a little editing and use it in a blog or sales communication."
She added: "You need to benchmark the results, build comparative data and then you can quickly make a case for bigger spend."
According to the survey, educating customers and prospects (33 percent) and cultivating awareness (32 percent) were cited as the two biggest benefits from publishing video content.
The fact that educating customers is viewed as one of the biggest benefits to online video signals a shift in strategic communication away from the "corporate ivory tower and toward a PR approach that speaks to the value provided to the audience(s)," Skerik said.
Educational instruction (39 percent) and talking heads (32 percent) were cited as the most effective video content.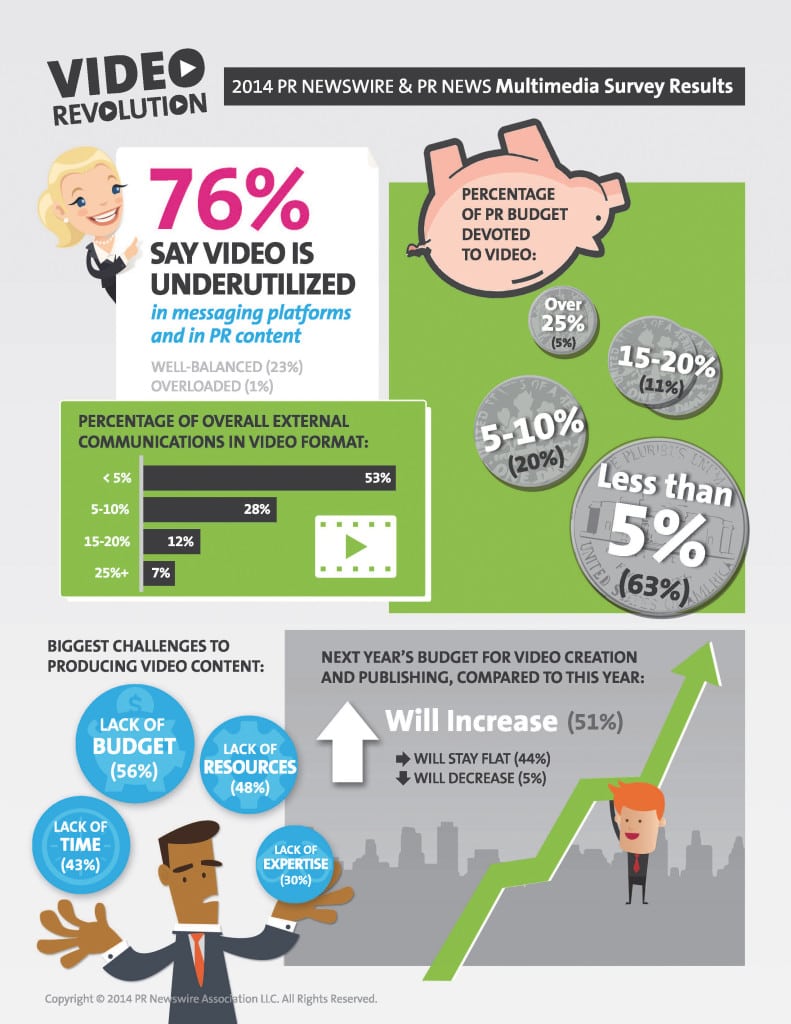 CONTACT:
Sarah Skerik, sarah.skerik@prnewswire.com.
This article originally appeared in the October 13, 2014 issue of PR News. Read more subscriber-only content by becoming a PR News subscriber today.