PR News Exclusive Content
Subscription Required
Subscribers: Log In
New Users: Subscribe
This article is accessible to PR News subscribers only. Not a PR News subscriber? Become one today and get access to great content in every issue, plus PR News archives and special reports.
or
To order by phone or email, please contact the Client Services department at 888-707-5814; clientservices@accessintel.com.
---
Comments Off
---
Deals of the Week
$150 off our Content Marketing Boot Camp June 18 in NYC
Now is the time for in-house communications professionals and PR agencies to expand their roles in the content landscape.
Use code "150DEAL" at checkout.
Get $50 off our Crisis Management Guidebook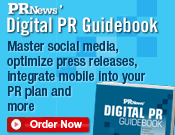 This latest edition of PR News' Digital PR Guidebook is packed with how-to articles, first-hand insights and proven digital tactics that will take your communications initiatives to the next level.
Use code "DBKDEAL" at checkout.
Save $100 on a PR News Subscription
Let PR News become your weekly, go-to resource for the latest PR trends, case studies and tip sheets. Topics covered include visual storytelling, social media, measurement, crisis management and media relations.
Use code "SUBDEAL" at checkout.