If 94% of CEOs and CIOs will place an increasing emphasis on creatively inspired communications in the years ahead, now's the time to get a better understanding of where the PR industry stands now in terms of creativity, and how PR pros can maximize their creative potential.
And according to the Creativity in PR Report, co-authored by the Holmes Report and NowGoCreate in partnership with Ketchum, there is a deficit in terms of big ideas and creative quality in public relations.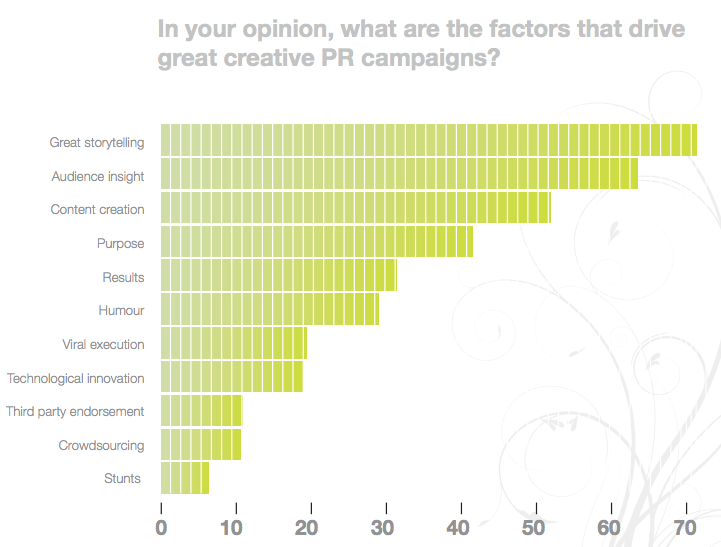 Great storytelling and audience insight are the biggest
factors that drive creative PR campaigns.

The study, based on a survey of 650 PR professionals from more than 35 countries across the world, asked the question: What constitutes creativity in the PR industry? When asked which factors drive great creative PR campaigns, "great storytelling" attracted the most support (71%), followed by "audience insight" (63%) and "content creation" (52%).

Fishing for Big Ideas: 61% of respondents, which were a blend of agency and in-house PR pros across consumer, corporate, healthcare, technology, digital and public affairs sectors, agreed that criticism of the industry for lacking big ideas is fair.
In fact, over 50% describe the quality of creativity within the PR industry as "ordinary" or worse.

We All Need to Be Creative; No One is Creative, Except Me: 95% of respondents felt that being creative is a key skill for PR professionals. And yet, despite the previously mentioned data point, 89% of respondents described themselves as creative.

How to Improve: Although much of the study provides some grim results about how PR pros view creativity within the industry, the data does show where organizations can make help boost creativity. The data suggests that the most popular ways organizations are supporting creativity are by using case studies (58%), mentoring (49%), and audience insight and planning (44%). The least popular ways are job rotation/secondment, followed by facilitation training.
The biggest issues that prevent creativity were a lack of time (65%) and lack of budget (48%). With that in mind, both agency and in-house PR divisions should not only work towards creating a culture of creativity, but to differentiate themselves—and recruit—based on creative prowess.

Follow Bill Miltenberg: @bmiltenberg