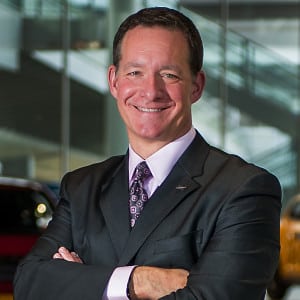 For Jeff Kuhlman, VP of global communications for Nissan Motor Co., it's crucial to get out the company message as it relates to the three biggest challenges facing the automotive industry: autonomous driving; zero emissions; and the connected car.
Kuhlman looked to Nissan's R&D department to help generate the content. But the R&D unit was reluctant to participate because it felt the information that Kuhlman wanted to share with stakeholders was proprietary. "We weren't getting the full benefit of having a deep, rich conversation," he said.
So, in 2014 Kuhlman set up a steering committee consisting of himself, the heads of marketing and R&D, as well as a working group.
"We asked, 'Let us in,' and said we would never violate the trust and that this would be a collaborative effort" at telling our story, Kuhlman said. "The breakthrough was getting R&D to appreciate that we weren't going to have the image of Nissan fully formed among consumers until we get out our vision" related to the three automotive challenges.
LONG-TERM PLAN
The steering committee meets monthly to identify what's happening within Nissan and how it can be translated into spreadable content.
Depending on the particular story, the steering committee will provide content to the business region and account for any cultural differences for the distribution (the story is going to be delivered one way, say, in India and another way in the United States).
Kuhlman stressed that measuring PR's relationship with the R&D unit is based on reputation and share of voice. "As we get further along in the actual delivery of the technologies and the cars, then we'll start to open up the measures," he said, adding that the long-term plan is to leverage the R&D unit to determine how the company can better communicate on various platforms and drive the paid, earned, owned model.
"Once R&D saw what communicators were doing," Kuhlman added, "the relationship became part of the business every day."
CONTACT: Jeff Kuhlman, jeff-kuhlman@mail.nissan.co.jp
 This article originally appeared in the May 11, 2015 issue of PR News. Read more subscriber-only content by becoming a PR News subscriber today.