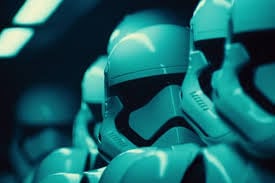 Well, you can't please everyone. In a social media age the expression takes on new meaning, what with naysayers, er, trolls, ready to pounce on a new product, service or performance.
The latest example? The trailer for "Star Wars: The Force Awakens," which rolled out last Friday and, so far, has garnered more than 40 million YouTube views.
The trailer has produced some favorable reviews, but an ample amount of criticism and parodies as well. A Lego version of the trailer, for example, was released less than 24 hours after the real one.
According to the BBC, online trolls targeted British actor John Boyega—who appears in the trailer—with racist abuse, while some Star Wars fans complained that a Storm Trooper couldn't be black "because they are all cloned from Jango Fett."
Boyega responded with a statement saying, "Thank you for all the love and support... Isn't it crazy that Star Wars is actually happening?"
"Star Wars," of course, is a 37-year old franchise that generates a lot of passion—both positive and negative—from fans.
But you don't have to market a $200 million movie to unleash the wrath of trolls. They'll criticize just about anything, so communicators of all stripes have to be prepare themselves.
With that in mind, here are a few PR tips for dealing with trolls, compliments of Lisa Denten, a digital content specialist at Wirtz Beverage Group.
> Uncover your brand's negative news. We are stewards of our brand and, as such, we
 are often aware of and sharing positive experiences. We should instead be mining negative views, whether perceived or true. The negative brand experiences are the ones that can slap us in the face and turn into a viral brand-bashing incident. While we can't stop the public from speaking out, we can be aware of all brand perceptions so we aren't caught off guard when the Twitter mob comes blazing. An added benefit of understanding negative brand perception is it opens our eyes to that audience, and how it may react to even the most unassuming tweet.
> Set alerts. This will give you a good indication if a topic related to your brand is trending. There are two ways to monitor for mentions: topic and volume.
1) Topic: If you know ahead of time that there might be negative news, be sure to alert your social media manager. Likewise, ask your social media manager to alert you if an overly negative mention appears. You then need to monitor its activity—is it getting replies and retweets?—and deploy your brand's crisis communications plan.
2) Volume: Ask your social media manager to report on Twitter volume. If your brand receives 50 to 60 mentions daily, and gets 80 within one hour, you need to immediately dive in and see what the extra mentions are about.
> Build a long-term strategy. Your brand's tweets should be tied to business goals and measured against them. 
While Twitter is a real-time 
network, keeping your goals 
in mind will keep your brand
 on task and ensure messaging is tied to a long-term
 strategy and not knee-jerk 
reactions. Before you post, you need to consider your advocates and enemies. And when in doubt, don't publish. It's no longer enough to wonder what you 
will do if a company matter goes viral. You must protect your brand by preparing and rehearsing for when it will happen. Buckle up.
Follow Matthew Schwartz on Twitter: @mpsjourno1
Follow Lisa Denten on on Twitter: @lisaml15