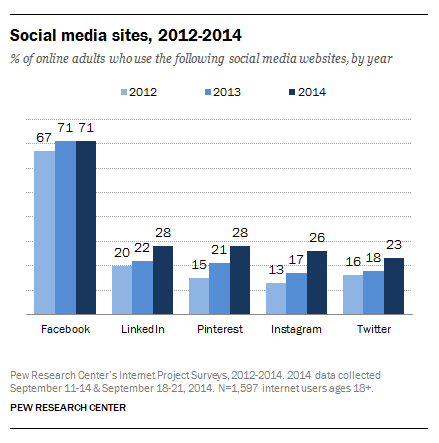 While some PR pros now complain that Facebook is a relatively ancient, increasingly pay-to-play social media network, new Pew Research shows that daily engagement is on the rise, meaning that, one way or another, communicators must remain committed to the media channel. Seventy percent  of Facebook users engage with the site daily (and 45 percent do so several times a day), a significant increase from the 63 percent  who did so in 2013, according to the Pew Research Center's Social Media Update 2014, which was released on Monday.
In addition, for the first time in Pew Research findings, more than half (56 percent) of Internet users ages 65 and older use Facebook. Overall, 71 percent of Web users are on Facebook, a proportion that represents no change from August 2013.
For PR pros, the surge in the number of older people using Facebook means they may have to rethink how they use the social network as a marketing vehicle, in terms of messaging, branding and audience development.
The engagement on Facebook may be stealing from the time spent on the other social networks: About half of Instagram users and 17 percent of Pinterest users engage with their respective platforms daily, although neither of these represent a significant change from 2013. About 36 percent of Twitter users visit the site daily, but this actually represents a 10 point decrease from the 46 percent who did so in 2013.
There's little debate that social media will take up more mind share and pocket share this year. The question for communicators is which channel best computes with a particular message and makes the most sense from a budgetary standpoint.
Here are some of the key findings, which are based on the 81 percent of American adults who use the Web. Note the number of "firsts," which suggests that Web usage may just be getting started.
> Multi-platform use is on the rise: 52 percent of online adults now use two or more social media sites, a significant increase from 2013, when it stood at 42 percent of internet users.
> For the first time, more than half of all online adults 65 and older (56 percent) use Facebook. This represents 31 percent  of all seniors.
> For the first time, roughly half of Web-using young adults ages 18-29 (53 percent) use Instagram. And half of all Instagram users (49 percent use the site daily.
> For the first time, the share of Web users with college educations using LinkedIn reached 50 percent.
> Women dominate Pinterest: 42 percent of online women now use the platform, compared with 13 percent of online men.
Follow Matthew Schwartz on Twitter: @mpsjourno1