A few years ago, social media platforms were limited, so deciding which ones made sense for your clients was much easier. You could simply narrow it down by the age and demographic of the audience you were trying to reach. Now, however, with many more options, making that decision is more difficult. The most important thing to understand about getting the most impact out of your social media, no matter what platform you choose, is that cleverly disguised advertising won't get you very far. Once you realize that content is the driving factor no matter the outlet, you can then narrow down which tools make the most sense. Ultimately, the old rules still apply, even when it comes to the latest and greatest social media tools.
THE GROUNDWORK
Just like any other project, when using social media it's important to develop a plan before jumping in.
First, you must determine what your client would like to accomplish through social media. Are they looking to sell widgets, raise awareness or grow a fan base? It's important to keep in mind that social media is a great reminder tool to be utilized as part of a much bigger campaign.
THE VOICE
If your client is relying strictly on social media alone to sell widgets, they may be disappointed with the results.
Social media does work well in building a fan base and creating a space for interaction between a brand and its customers.
Next, you must determine the voice of the product or service. Is it whimsical, straightforward, funny or emotional?
It is possible to have more than one voice, depending on the content itself. If you establish this early on, those reading your content won't be surprised if the voice suddenly changes.
You may also choose to modify your voice across social media platforms. What can easily be expressed on Facebook may not work as well through a six-second Vine video or image on Instagram.
Third, you must figure out the story you would like to tell. Unlike traditional advertising platforms, the storytelling process is not one sided.
You must give up some control of the message, but you can definitely guide your customers, fans or supporters in the right direction. There also may be more than one story, but make sure everything you share is consistent with the overall brand message.
Then, once these foundational pieces are set, you must determine what type of content you will share. This is also the time in which you should choose your social media outlets.
Your content can be similar across platforms, but it's best if it's customized for each tool. Most emerging social media tools have a heavy visual component, relying on video or photos.
It's at this point in the discovery process that you can determine what visuals are shareable.
Clients often come to us knowing little about social media but feeling pressure to have a presence on every platform. I try to take a step back before making a recommendation on which tools make sense. Once I understand a client's goals, I can better assess the situation.
One of the most attractive things about social media is that there is no cost to set up an account.
What many clients don't realize until they jump in is just how much time it takes to manage social media correctly. Ideally, your client should only have the social media tools for which he or she is willing to invest the time or money to thoughtfully manage.
The most popular emerging social media tools are driven by imagery or video. You must decide which makes the most sense for your client. Maybe it's both, but keep in mind that what might work in a photo might not work in a video format.
For example, a restaurant posting images of its food on Instagram may make followers hungry, whereas videos of the same food might be boring.
ONLINE PIN BOARDS
Billed as an online pinning board, Pinterest lends itself to foodies, crafters, exercise buffs and brides-to-be. But there is also a place for businesses.
It's important to know that the pin itself is a visual representation of your brand that can link back to your website.
Pinners will repin your image if it's something useful, trendy or interesting that they want to go back to at a later time.
Though this particular tool may seem limiting at first glance, you may be surprised at what people are willing to post and collect on their own boards. From funny or inspirational words to adorable animals dressed in college sports garb—it's all on there.
Whatever you choose to post on behalf of your client needs to communicate your message entirely in one image. Don't rely on the fact that the image links to your site, but definitely be aware of it.
QUICK-HIT VIDEOS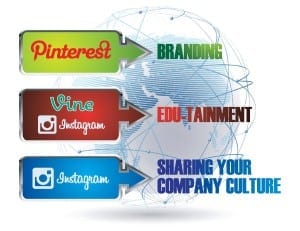 Two of the most popular video tools, Vine and Instagram, allow you to post short clips. Vine allows for six-second looped videos that can be shared on Twitter, and Instagram's video feature allows you to post three- to 15-second videos. This is a great opportunity to allow the world to see a different side of a brand.
It's also a great way for people to share why they love a brand or how they use a product. Despite the short amount of time, creativity can go a long way in helping you get a message out.
PHOTO PLATFORMS
Instagram has become the most popular place for people to post photos that reflect their lives and daily activities. With the ability to edit images before posting, users feel like real photographers.
From live events to food or even things that may seem mundane, users post and share, often hashtagging their images. Posts from a brand on Instagram need to feel real and not overly produced.
Adding a logo or brand identifier to the bottom of photos can work well, but posting only edited images will quickly lose your audience's interest.
As time goes on, the number of social media outlets will grow and the trends will change, but the rules will still apply. Establish your goal, find your voice and choose content that your friends and fans will find interesting. Then, you will have a winning strategy.
10 Questions for Your Social Media Strategy
1. What do you want your client's social media presence to say about the brand?
2. What goal are you looking to accomplish?
3. Does your client's product or service lend itself to a visual medium?
4. What would you like your fans to share on behalf of your brand?
5. What keywords can be used as hashtags that are memorable and short but reflect your client's brand?
6. What voice best represents your client's brand?
7. What stories can you tell about your brand?
8. What stories can your fans, friends and customers tell about the brand?
9. Is the content available interesting or just cleverly disguised advertising?
10. Why would people choose to follow the brand's social media?
This article was written by Megan Neri, director of client relations at Imagine Communications. It is an excerpt from PR News Digital PR & Social Media Guidebook. To order a copy, please go to http://www.prnewsonline.com/prpress/.  
CONTACT:
Megan Neri, mneri@weareimagine.com. Follow her on Twitter, @megan_neri.