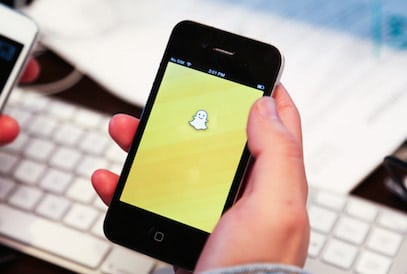 Snapchat, an app where users send ephemeral  messages, will compile images and video from users at gatherings around the world and post them as a fleeting story on how the world kicked off 2015. That's according to  The New York Times.
In a bold move, Snapchat will run its New Year's Eve story on video screens situated in Times Square. The compilation, part of the "Our Story" feature released in June, will also be available to users in the "live" section of the app.
The Our Stories feature is a larger iteration of Snapchat's "Stories" feature, which enables users to create video and picture compilations from their life and are available to friends or all Snapchat users. This feature vanishes in 24 hours, extending the few seconds Snapchat messages were originally available.
The video-boards play in Times Square will be the first time Snapchat is broadcast outside of the application, serving as a symbolic announcement of the company's arrival as a major social media player.
As of June Snapchat's Stories and Our Story features were generating more than a billion stories each day, twice as much as the previous month, according to the Times. While the service is heavily engaged with 25-plus million monthly users in the United States, that number is still relatively small compared with the big three—Facebook, Twitter and Instagram, with 200.7 million, 80 million and 90 million respectively.
Snapchat is proving to be a unique mode of communication, popular with the coveted demos of millennials and teens. Nearly 50 percent of its users fall into the bracket of 18 to 24-year-olds, while its user base continues to climb, jumping 55 percent in the last year, the Times said.
While Snapchat remains rather elusive for many brands and organizations, the Stories and Our Story features present compelling opportunities to engage a markedly hard-to-pin-down demographic where they live, and more important, with a new and untapped form of communication.