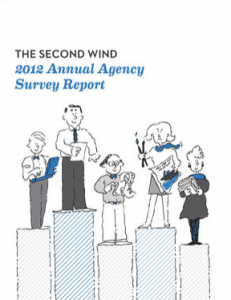 PR Agencies Ramp Up Digital Offerings: It is becoming more and more apparent to small- to medium-sized agencies that they need a separate department to handle their digital business, according to Second Wind' s 2012 Annual Agency Survey.
Among responding agencies, more than half (63%) have dedicated digital groups while 32% of agencies separate their digital group from the rest of the agency, a 3% bump from last year's survey. Other study findings include:
The percentage of agency revenue deriving from digital projects is projected to increase from 11% in 2011 to 13% in 2012.

Despite the growing need for digital services, smaller agencies are slower to hire digital staff, with 51% having one to two employees, 32% having three to four employees and 17% having five to 10 employees.

These digital departments encompass services from website development (96%) to email marketing (92%), social media (90%) and banner-ad creation (89%).

Ninety-four percent of agencies use Google analytics for digital media tracking and analysis, with the other 6% using DoubleClick, MediaPlex, Omniture or other online resources.

Social media has become an important tactic in digital marketing. Public relations agencies are managing and creating their clients' Facebook pages (86%), Twitter accounts (66%), blogs (66%) and LinkedIn presences (48%).

A growing number of agencies (56%) also monitor and report on client social media activity, with 43% relying on HootSuitePro, 20% using Radian6, and other respondents using a mixture of social media monitoring packages.
Source: Second Wind