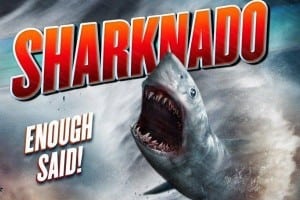 "Sharknado" was possibly the biggest social media phenomenon of 2013. So who can blame the producers for wanting more? "Sharknado 2: The Second One," which premieres tonight on the Syfy channel, will offer PR pros another healthy dose of camp—and maybe even some inspiration for how brands limited by budget and/or reach can distinguish themselves from their competitors.
During tonight's premiere, the jokes about "Sharknado 2" will be flying fast and furious via Twitter (the hashtag is #sharknado2 for those of you who plan to tune in). At the same time, however, Syfy is sending a serious message about how communicators need to take calculated risks and do something different in order to separate their brands from the pack.
But it's not exactly disruption—the current buzzword to describe how companies need to practice more unorthodox thinking about the brand—we're talking about. After all, Sharknado 2 is in keeping with the Syfy brand.
Within their established framework, however, the producers are shooting for maximum silliness (whether it's casting Judd Hirsch, of "Taxi" fame, as a cab driver, or having the severed head of the Statue of Liberty whizzing through midtown Manhattan, not to mention leaden dialogue and an implausible storyline).
The Sharknado frenzy gives lie to the line, "If you build it, they will come." For PR managers, it's actually the opposite. First, take pains to cultivate an audience that keeps coming back for your content and expresses its loyalty via social channels and other media venues. Once you have a steady (if niche) audience, then try to take the brand to a new and, depending on the market, perhaps more outlandish level.
The goal should be to try and expand your tent and bring in new consumers, but not at the expense of existing customers. And, oh, yes, make sure the effort lends itself to social chatter.
The serious message here is that with a generation conditioned on irony now moving into the management suite, brands can afford not to take themselves so seriously.
Follow Matthew Schwartz on Twitter: @mpsjourno1